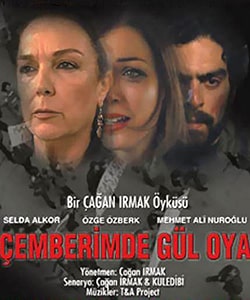 Details
Original Title: Cemberimde Gul Oya
English Title: The Rose and the Thorn
Also Known As: Eklil El Ward (Arabic)
Genre: History, Romance
Episodes: 40
Broadcast Network: Kanal D
Broadcast Period: September 3, 2004 – July 1, 2005
Production Company: Avsar Film
Director: Cagan Irmak
Screen Writer: Fikret Bekler, Kerim Ceylan, Sertac Ergin, Cagan Irmak, Nihan Kucukural
Filming Locations: Istanbul, Turkey
Synopsis
Yurdanur (Ozge Ozberk) is far from the war between leftist and rightist but one day while going to the cinema she loses her closest friend in middle of the fight.
In a street of scattering crowd and open fire, she meets a leftist guy, Mehmet (Mehmet Ali Nuroglu) who helps her. They fall completely into each other, although Mehmet is known as anarchist and Yurdanur is the daughter of the rightist Turkish deputy.
Yurdanur's parents Dincer (Kenan Bal) and Sema (Isil Yucesoy) don't approve of their relationship. However, Yurdanur, girl of a rich family, finds it worth loving a different man than loving money like her father, Dincer.

In the rose and the thorn (cemberimde gul oya) tv series story, you will explore the times of Turkey in the 1970s. You will also explore a profound and sincere love between anarchy, fight and power while crying and laughing simultaneously. Will Yurdanur and Mehmet stick to their love although they come from different ideological backgrounds? Will they remain safe when they face with the plain truths of the tough life in 1970s? Will following years solve every obstacle on their paths?
The Rose and the Thorn Tv Series Cast
Selda Alkor as old Yurdanur Eroglu
Ozge Ozberk as young Yurdanur
Mehmet Ali Nuroglu as young Mehmet
Kenan Bal as Dincer Bayraktar
Isil Yucesoy as Sema Bayraktar
Tuba Buyukustun as young Zarife
Melisa Sozen as Feriha Eroglu
Suzan Aksoy as Suna
Serif Sezer as Sultan
Isil Aras as Hatice Eroglu
Levent Yilmaz as Nazif Eroglu
Mahmut Gokgoz as Ibrahim
External Links
Official Site: https://www.kanald.com.tr/cemberimde-gul-oya
English Wikipedia:
Imdb:
You Might Also Like
Remember Darling (Hatirla Sevgili)
Time Flies (Oyle Bir Gecer Zaman Ki)