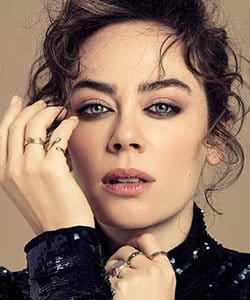 Profile
Name: Demet Evgar
Birthdate: May 19, 1980
Birthplace: Manisa, Turkey
Height: 162 cm
Eye Color: Blue
Hair Color: Brown
Education: Istanbul University State Conservatory Theatre (Istanbul Universitesi Devlet Konservatuari Tiyatro)
Talent Agency: Yasemin Ozbudun Talent Management
Spouse:
Biography: Demet Evgar was born in Manisa. She started acting with amateur Afsem Theatre when she was 17 years old. While she was going to Istanbul University State Conservatory, she founded Theatre Kilcik (Tiyatro Kilcik) with her friends.
Demet Evgar Tv Series / Movies
1995 – Flower Taxi Station (Cicek Taksi) (as Safiye Yildiz)
2000 – Seven Number (Yedi Numara) (as Yeliz)
2001 – Sweet Life (Tatli Hayat) (as Defne)
2002 – Asli and Kerem (Asli ile Kerem) (as Yeliz)
2003 – Yuvam Yikilmasin (as Hulya)
2003 – Cinaralti (as Nilufer)
2004 – All My Children (Butun Cocuklarim) (as Eysan Kiroglu)
2005 – The Bathroom (Banyo) (as Hulya) (Movie)
2005 – Shattered Soul (Beyza'nin Kadinlari) (as Beyza Turker) (Movie)
2005 – Yes Sir (Emret Komutanim) (as Cigdem)
2006 – Bir Demet Tiyatro (as Sermiye)
2006 – Men Don't Cry (Erkekler Aglamaz) (as Zeynep)
2009 – 2014 1 Woman 1 Man (1 Kadin 1 Erkek) (as Zeynep)
2009 – I Saw the Sun (Gunesi Gordum) (as Havar) (Movie)
2009 – Innocent (Masumlar) (as Basak)
2009 – Yahsi Bati (as Suzan Van Dyke) (Movie)
2010 – Vay Arkadas (as Nil) (Movie)
2013 – Thou Gild'st the Even (Sen Aydinlatirsin Geceyi) (as Yasemin) (Movie)
2015 – No More (Yok Artik) (as Ceyda) (Movie)
2016 – 2017 Wounded Love (Vatanim Sensin) (as Kara Fatma)
2017 – Between Family (Aile Arasinda) (as Solmaz) (Movie)
2017 – Love Does Not Need Unblind Eyes (Askin Goren Gozlere Ihtiyaci Yok) (as Handan Soylu) (Movie)
2017 – Serial Cook (Sofra Sirlari) (as Neslihan) (Movie)
2018 – Prison Yard (Avlu) (as Deniz Demir)
Awards
2010 – 37. Golden Butterfly Tv Stars Awards (37. Altin Kelebek Tv Yildizlari Odulleri) – Best Actress (Comedy) (1 Woman 1 Man) – En Iyi Kadin Oyuncu (Komedi) (1 Kadin 1 Erkek)
2010 – 1. Ismail Cem Televizyon Odulleri (1. Ismail Cem Televizyon Odulleri) – Best Actress (Comedy) (1 Woman 1 Man) – En Iyi Kadin Oyuncu (Komedi) (1 Kadin 1 Erkek)
2012 – 3. Antalya Televizyon Odulleri (3. Antalya Televizyon Odulleri) – Best Actress (Comedy) (1 Woman 1 Man) – En Iyi Kadin Oyuncu (Komedi) (1 Kadin 1 Erkek)
2014 – 19. Sadri Alisik Odulleri (19. Sadri Alisik Odulleri) – En iyi yardimci kadin oyuncu (Sen Aydinlatirsin Geceyi) – En iyi yardimci kadin oyuncu (Sen Aydinlatirsin Geceyi)
2018 – 23. Sadri Alisik Odulleri (23. Sadri Alisik Odulleri) – En Iyi Kadin Oyuncu (komedi) (Aile Arasinda) – En Iyi Kadin Oyuncu (komedi) (Aile Arasinda)
2018 – 37. Istanbul Film Festivali (37. Istanbul Film Festivali) – En Iyi Kadin Oyuncu (Sofra Sirlari) – En Iyi Kadin Oyuncu (Sofra Sirlari)
Social
Instagram: https://www.instagram.com/temedragve/
Twitter: https://twitter.com/dmtevgar
Facebook: https://www.facebook.com/dmtevgar/
E-Mail:
Demet Evgar Gallery
Demet Evgar – Farketmeden
Demet Evgar - Farketmeden
Demet Evgar & Serkan Keskin – Gitme Sana Muhtacim
Demet Evgar & Serkan Keskin - Gitme Sana Muhtacim
Demet Evgar Vogue Shooting