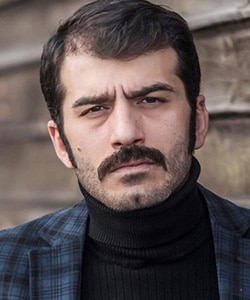 Profile
Name: Ufuk Bayraktar
Birthdate: September 12, 1981
Birthplace: Istanbul, Turkey
Height: 181 cm
Eye Color: Brown
Hair Color: Black
Education: Gursoy College (High School)
Talent Agency: Ubay Management
Spouse: Merve Bayraktar
Children: Efe Cevahir Bayraktar
Biography: Ufuk Bayraktar was born in 12 September 1981 in Istanbul. After high school, he decided not to study and started working at his father's coffee house Firuzaga Kahvesi. While working there, he was recognized by famous director Zeki Demirkubuz and made his debut at the film named Waiting Room directed by Zeki Demirkubuz. Ufuk Bayraktar took part in projects directed by famous directors such as Destiny (director Zeki Demirkubuz); Seasons (director Nuri Bilge Ceylan); Egg (director Semih Kaplanoglu); Ali's Eight Days (director Cemal San).
Ufuk Bayraktar Tv Series / Movies
2003 – Waiting Room (Bekleme Odasi) (as Ferit) (Movie)
2006 – Destiny (Kader) (as Bekir) (Movie)
2006 – Seasons (Iklimler) (Movie)
2007 – Eagles Fly High (Kartallar Yuksek Ucar) (as Hasan)
2007 – Egg (Yumurta) (as Haluk) (Movie)
2008 – Ali's Eight Days (Ali'nin Sekiz Gunu) (as Kemal) (Movie)
2008 – Girdap (Movie)
2010 – 2011 Ezel (as Young Ramiz Karaeski)
2009 – Yeni Bastan
2010 – Memleket Meselesi (Movie)
2010 – Ayrilik (as Kemal) (Movie)
2012 – Underground (Yeralti) (Movie)
2012 – Sons of Soil (Topragin Cocuklari) (as Cevher) (Movie)
2012 – Let it Be the Last (Bu Son Olsun) (as Ertugrul) (Movie)
2012 – The Mountain (Dag) (as Bekir) (Movie)
2012 – Gallipoli 1915 (Canakkale 1915) (as Seyit Onbasi) (Movie)
2015 – The Coop (Milat) (as Hamza)
2016 – 2017 On the Wings of Love (Sevda Kusun Kanadinda) (as Omer Yigiter)
2016 – The Mountain II (Dag 2) (as Bekir) (Movie)
2016 – Kumes (as Suleyman) (Movie)
2016 – Wounded Love (Vatanim Sensin) (as Dagistanli)
2020 – Dayi: Bir Adamin Hikayesi (Movie)
Awards
2006 – Antalya Golden Orange Film Festival (Antalya Altin Portakal Film Festivali) – Behlul Dal Young Talent Award (Destiny) – Behlul Dal Genc Yetenek Ozel Odulu (Kader)
2006 – Istanbul Film Festival (Istanbul Film Festivali) – Best Actor (Destiny) – En Iyi Erkek Oyuncu Odulu (Kader)
2006 – Cinema Writers' Association Awards (Sinema Yazarlari Dernegi Odulleri) – Promising Young Actor (Destiny) – Umut Veren Genc Oyuncu Odulu (Kader)
Social
Instagram: https://www.instagram.com/ufukbayraktar_official/
Twitter:
Facebook: https://www.facebook.com/ufukbayraktarofficial/
E-Mail:
Trivia
Body Type:
Skills:
Zodiac Sign: Virgo
Blood Type:
Hobbies:
Weight: 68 kg
Ufuk Bayraktar Gallery
DAYI: A Man's Story Movie Trailer (with English Subtitle)
DAYI: A Man's Story Movie Trailer (with English Subtitle)