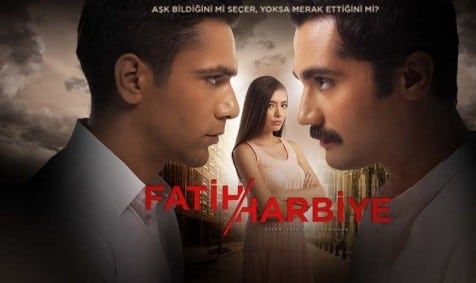 Details
Original Title: Fatih Harbiye
English Title: From Fatih to Harbiye
Also Known As: In Between
Genre: Romance, Drama
Episodes: 50
Broadcast Network: Fox Tv
Broadcast Period: August 31, 2013 – December 10, 2014
Production Company: Koliba Film
Director: Sadullah Celen
Screen Writer: Hayriye Ersoz
Synopsis
Neriman (Neslihan Atagul) is a young girl who lives with her father and her aunt in Fatih region in Istanbul. She has been raised with conservative values. She never goes out without permission of her aunt or father, she never wears modern clothes, and she never objects her elder's will. In this moderate and conservative life, Neriman reflects all her dreams in the pictures that she draws.
Other than drawing awesome pictures, Neriman also spends most of her time with her childhood love Sinasi (Yunus Emre Yildirimer). Sinasi is a university student majoring in Traditional Turkish Music. He plays oud and he knows nothing much outside of his studies, except Neriman. Whenever his class ends, he leaves the school and goes to see Neriman.
In this ordinary life, Neriman wants something different. She wants to see the other side of Istanbul that she has never seen before. One day, out of pure coincidence, she bumps into her cousin Pelin (Dilara Oztunc) who lives in a rich neighborhood with modern values. Pelin knows that Neriman has been raised with conservative values and she cannot go outside at night. In order to make her embarrassed, Pelin invites Neriman to a party.
Neriman is dying to go to that party but she knows that it is impossible. Her father will never let her go and Sinasi will never approve that. Neriman just wants to experience something new; she knows that one different night will be enough all her lifetime. She knows that after getting married to Sinasi, she will not have a chance to see a modern life in Istanbul. That's why; she decides to go to that party secretly. With her close friend's help, Neriman turns into Cinderella.
At the party, Neriman attracts everyone's attention with her wonderful outlook and innocence. Macit (Kadir Dogulu) who is a rich and handsome playboy is also attracted by Neriman. However, their confrontation turns everything upside down.
In this story, you will explore the conflicts experienced by a young girl between Eastern and Western ideas. In the drama, Fatih region represents Eastern lifestyle (traditional and conservative) whereas Harbiye region represents Western lifestyle (modern). Will Neriman choose her childhood love Sinasi and return back to her ordinary life? What will happen between Macit and Neriman? Will the glory of rich and modern life take Neriman from her conservative lifestyle? Will Neriman and Macit live happily without considering their family backgrounds?
Fatih Harbiye tv series is a adopted from the famous novel of Peyami Safa with the same name.
Cast
Kadir Dogulu as Macit
Neslihan Atagul as Neriman
Yunus Emre Yildirimer as Sinasi
Dilara Oztunc as Pelin
Olcay Yusufoglu
External Links
Imdb:
Official Site: http://www.fox.com.tr/Fatih-Harbiye
You Might Also Like
I Named Her Feriha (Adini Feriha Koydum)
Bitter Life (Aci Hayat)