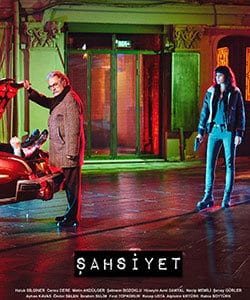 Details
Original Title: Sahsiyet
English Title: Personality
Also Known As:
Genre: Crime, Thriller
Episodes: 12
Broadcast Network: PuhuTv
Broadcast Period: March 17, 2018 – June 8, 2018
Production Company: Ay Yapim
Director: Onur Saylak
Screen Writer: Hakan Gunday
Synopsis
Agah Beyoglu (Haluk Bilginer) is a 65 years old man who is retired from judiciary. He has an ordinary life with his cat. Even though he lives in the most crowded district of Istanbul: Beyoglu, he seeks for silence and respect all the time. Agah's wife passed away 5 years ago, and his only child went to Sydney, Australia and after then Agah starts to live all alone in one of the buildings he owns.
Agah's life changes dramatically when he is diagnosed with Alzheimer. He is at the beginning stage of this illness but he already starts to forget some important functions such as feeding his lovely cat and buying gasoline for his car. Before forgetting all his memories, Agah decides to commit a murder he has planned for years. He goes to the judiciary where he worked years ago and takes all the criminal records. After then, he makes his plan in detail.

On the other hand, Nevra (Cansu Dere) is the only female police officer in Homicide Department of Istanbul. She has a public administration degree from a well-known university but she decides to become a police officer as her father. However, she is harassed all the time by his male colleagues and due to this pressure, she is on the verge of resignation.
Different lives of Agah and Nevra intersect due to a mysterious murder. Agah commits a murder and leaves a message to Nevra. For the first time, Nevra gets ahead of his male colleagues and is assigned to the important job of finding the killer. Whenever Agah commits a murder, he continues to leave specific messages for Nevra. In order to find this serial killer, Nevra has nothing to do but to remember her past.
The story gets complicated when Agah's daughter and grandson come to Istanbul to live with him. Now, Agah has to be more careful not to reveal his identity.
In Personality (Sahsiyet) tv series story, you will watch a crime story that is connected to the lives of two different persons Agah and Nevra. Will Agah successfully execute his murder plan before forgetting all his memories? Will Nevra eventually find the serial killer and the reasons for all these murders? Is Agah and Nevra encounter just by a coincidence? Will Nevra prove her ability to all other male police officers?
Personality (Sahsiyet) Tv Series Cast
Cansu Dere as Nevra
Haluk Bilginer as Agah Beyoglu
Metin Akdulger as Ates
Sebnem Bozoklu as Zuhal
Necip Memili as Tolga
Ibrahim Selim as Sefa
Firat Topkorur as Firuz
Ayhan Kavas as Gurkan
Erol Colak as Sadi
Huseyin Avni Danyal
Senay Gurler
Humeyra Akbay
Mujde Ar
Avni Yalcin
Cengiz Samsun
Okan Avci
Yilmaz Gruda
Busra Cam
Aysen Inci
External Links
Official Site: https://puhutv.com/sahsiyet-detay
Official Site 2: http://ayyapim.com/sahsiyet
Instagram: https://www.instagram.com/sahsiyetdizi/
Twitter: https://twitter.com/sahsiyetdizi
Facebook: https://www.facebook.com/sahsiyetdizi/
You Might Also Like
Alacakaranlik (Twilight)
Behzat C.
Personality (Sahsiyet) Tv Series Gallery
Personality (Sahsiyet) Tv Series Trailer
https://www.youtube.com/watch?v=tWywkCcguqQ
Generic Music