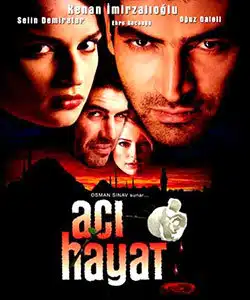 Details
Original Title: Aci Hayat
English Title: Bitter Life
Also Known As: Tears of Roses (English), Dumou3 Al Ward (Arabic), Gor'kaq zhiuzni (Russia), Jeta e hidhur (Albania), Life Is Suffering
Genre: Action, Drama, Romance
Episodes: 59
Broadcast Network: Show TV
Broadcast Period: December 14, 2005 – June 22, 2007
Production Company: Sinegraf
Director: Abdulkadir Ceylan Ede
Screen Writer: Aybars Bora Kahyaoglu, Soner Pehlevan, Tangul Sinav, Atilla Engin, Isa Yildiz
Filming Locations: Istanbul, Turkey
Synopsis
Mehmet (Kenan Imirzalioglu) is a poor guy who is desperately in love with Nermin (Selin Demiratar), from his neighborhood. He works as a welder in a shipyard while Nermin is a manicurist in one of the well known coiffeurs. Their only aim is to get married and have a nice home. Thus, they try to get rid of poverty by working harder each day.
But, no matter how hard they try, they just never earn enough money to realize their dream of getting married and having a nice home. When Nermin gets in a term losing the hope of happiness, she comes across one of the playboys of Istanbul, Ender (Oguz Galeli).

Nermin starts to get closer to the glamorous life of Ender and edges away from the love of her life; Mehmet. She leaves her old poor life and her only real love behind and starts a new life in richness with Ender.
On the other hand, Mehmet becomes very devastated when Nermin leaves him for another man. He promises to seek revenge on the man who steals his girlfriend. Therefore, Mehmet tries to woo Filiz (Ebru Kocaaga) who is the sister of Ender. Although he still loves Nermin, he tries to camouflage his feelings and keep concretely practicing his revenge.
In bitter life (aci hayat) tv series story, you will explore a tragic love story of Mehmet and Nermin. Will revenge fill the emptiness in Mehmet's hearth? Will Mehmet go back to her first love or stay with Filiz? Will Mehmet forgive Nermin and live the rest of his life peacefully with her?
Bitter Life (Aci Hayat) Tv Series Cast
Kenan Imirzalioglu

as Mehmet

Selin Demiratar

as Nermin

Oguz Galeli

as Ender

Ebru Kocaaga

as Filiz

Ahmet Yenilmez

as Hasan

Ekin Turkmen

as Ozlem Kosovali

Murat Soydan

as Celal Kosovali

Meral Orhonsay

as Celal Kosovali

Ferdi Merter

as Sefa Kervancioglu

Anta Toros

as Belkis Kervancioglu

Nalan Basaran

as Asiye Yildiz

Ozlem Turhal

as Muge

Gulseven Yilmaz

as Melek

Tekin Temel

as Sukru

Burak Cevik

as Child Mehmet
Main Characters' Other Popular Dramas
Kenan Imirzalioglu: Ezel, Crazy Hearth (Deliyurek)
Selin Demiratar: Adanali
External Links
Official Site:
English Wikipedia:
Imdb:
Youtube Channel: Official Youtube Channel
You Might Also Like
Ezel
Under the Linden Trees (Ihlamurlar Altinda)