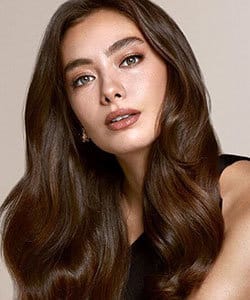 Profile
Name: Neslihan Atagul
Birthdate: August 20, 1992
Birthplace: Istanbul, Turkey
Height: 169 cm
Eye Color: Green
Hair Color: Brown
Education: Yeditepe University Theatre (Yeditepe Universitesi Tiyatro Bolumu)
Talent Agency:
Spouse: Kadir Dogulu (m. 2016 – present)
Biography: Neslihan Atagul was born in Istanbul in August 20, 1992. Her mother is belarussian while her father is chechenian. While she was 8 years old, she decided to be an actress. When she became 13 years old, she was registered to Erberk Agency and started her acting career. Neslihan Atagul made her debut with her role Deniz in popular Turkish drama Fall of the Leaves (Yaprak Dokumu).

Neslihan Atagul Tv Series / Movies
Awards
2007 –

14. International Golden Cocoon Film Festival (14. Uluslararasi Altin Koza Film Festivali) – Young Promising Actress (First Love)

– Umut Veren Genc Kadin Oyuncu (Ilk Ask)
2012 –

19. International Golden Cocoon Film Festival (19. Uluslararasi Altin Koza Film Festivali) – Turkan Soray Young Promosing Actress (Araf)

– Turkan Soray Umut Veren Genc Kadin Oyuncu (Araf)
2012 –

6. 2morrow Film Festival (6. 2morrow Film Festivali) – Best Actess of Today and Future (Araf)

– Simdinin ve Gelecegin En Iyi Oyuncusu (Araf)
2012 –

25. Tokyo Film Festival (25. Tokyo Film Senligi) – Best Actress (Araf)

– En Iyi Kadin Oyuncu (Araf)
2012 – Pune International Film Festival (Pune Uluslararasi Film Festivali) – Best Actress (Araf) – En Iyi Kadin Oyuncu (Araf)
2012 – 45. Cinema Writers Association Awards (45. Sinema Yazarlari Dernegi Odulleri) – Cahide Sonku Best Actress Award (Araf) – Cahide Sonku En Iyi Kadin Oynucu (Araf)
2013 –

45. Siyad Turkish Cinema Awards (45. Siyad Turk Sinemasi Odulleri) – Best Actress (Araf)

– En Iyi Kadin Oyuncu (Araf)
2013 –

16. Flying Broom International Women's Film Festival (16. Ucan Supurge Uluslararasi Kadin Filmleri Festivali) – Young Witch Award (Araf)

– Genc Cadi Odulu (Araf)
2016 – 16th Magazine Internet Media Awards (16 Magazinci Internet Medyasi Odulleri) – Best Actress of the Year (Endless Love) – Yalin Kadin Dizi Oyuncusu (Kara Sevda)
2016 – Ayakli Gazete Awards (Ayakli Gazete Odulleri) – Best Actress (Endless Love) – En Iyi Kadin Oyuncu (Kara Sevda)
2016 – MGD 22nd Golden Objective Awards (MGD 22. Altin Objektif Odulleri) – Best Actress (Endless Love) – En Iyi Kadin Drama Oyuncusu (Kara Sevda)
2017 – 1st Muzikonair Awards (1. Muzikonair Odulleri) – Best Actress (Endless Love) – En Iyi Kadin Dizi Oyuncusu (Kara Sevda)
2020 – 3rd International Izmir Film Festival Artemis Awards (3. Uluslararasi Izmir Film Festivali Altin Artemis Odulleri) – Best Actress (Ambassador's Daughter) – En Iyi Kadin Oyuncu (Sefirin Kizi)
2020 – SE-SAM Turkish Cinema Awards (SE-SAM Turk Sinemasini Gecmişten Gelecege Tasiyanlar Odul Toreni) – Turk Sinemasini Gecmisten Gelecege Tasiyan Isim
2021 – 1. Sinemaport Awards (1. Sinemaport Odulleri) – Best Actress in Turkish Drama (Ambassador's Daughter) – En Iyi Kadin Dizi Oyuncusu (Sefirin Kizi)
2021 – DIAFA Award 2021 – Best International Actress of the Year (Ambassador's Daughter) – Yilin Uluslararasi Kadin Oyuncusu (Sefirin Kizi)
Social
Instagram: Official Instagram Account
Twitter: Official Twitter Account
Facebook: Official Facebook Account
E-Mail: Contact
Neslihan Atagul Gallery
Neslihan Atagul Magazine Cover
Neslihan Atagul (InStyle)
Neslihan Atagul Turkish Actress
Neslihan Atagül & Kadir Doğulu (Marie Claire)
Neslihan Atagül & Kadir Doğulu (Marie Claire)