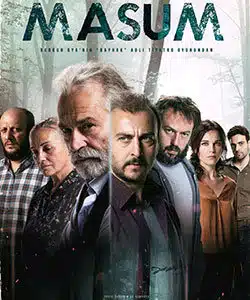 Details
Original Title: Masum
English Title: Innocent
Also Known As:
Genre: Crime, Mistery
Episodes: 8
Broadcast Network: Blu TV
Broadcast Period: January 27, 2017 – February 27, 2017
Production Company: D Productions
Director: Seren Yuce
Screen Writer: Berkun Oya
Synopsis
Innocent (Masum) is the first online Turkish drama.
Yusuf (Ali Atay) is the chief of Homicide Squad at the police department. He is divorced but he cannot refrain from going after his ex-wife Feride (Esra Kizildogan) and his daughter Elif (Merve Ates). He continues to control the life of his ex-wife as he thinks that his daughter is living at another man's house.
One day, Yusuf is assigned to a mysterious murder case. In order to solve this case, Yusuf leaves Istanbul and goes to his hometown. Without disclosing his true intention, he aims to collect as much information as possible and eventually, solve the case in a secret way.

In this mysterious case, Yusuf wants to find what has happened to the family of retired police officer Cevdet (Haluk Bilginer). Cevdet has two sons: Tarik (Okan Yalabik) and Taner (Serkan Keskin). According to police report, Taner and Tarik's wife Emel (Tulin Ozen) made a car accident and died at the scene. However, Taner's body could not be found as the car went under the lake.
The police get suspicious about the case and investigate whether there is a murder or not. However, they cannot find any evidence. Thus, Yusuf is assigned in a secret way and sent away to this small town.
In fact, Yusuf knows the retired police officer Cevdet and his sons. He spent his childhood in this small town where he was the childhood friend of Taner. Therefore, he easily approaches to the family and starts to investigate the case in a secret way. As time goes on, Yusuf realizes that there are shocking and buried secrets in his peaceful town. Who is innocent and who is guilty are intermingled with each other.
Innocent (Masum) tv series story is about a mysterious murder case where the retired police officer Cevdet's ordinary life changes dramatically after a terrible news from his little son. Will Yusuf manage to solve the mysterious case? Why the happy life of Tarik and Emel changes all of a sudden? Will Cevdet find the true intention of Yusuf? Will Cevdet manage to save his family?
Innocent (Masum) Tv Series Cast
External Links
Official Site: https://www.blutv.com.tr/masum-dizisi-izle
Netflix: https://www.netflix.com/title/81026192
English Wikipedia:
Imdb:
You Might Also Like
Behzat C.
Twilight (Alacakaranlik)
Innocent (Masum) Turkish Drama Relationship Chart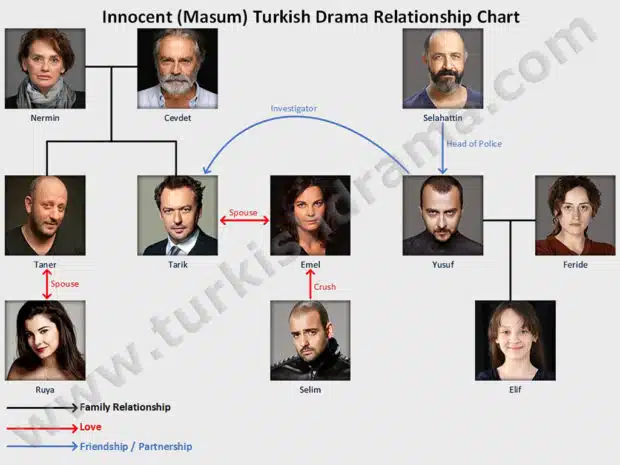 Innocent (Masum) tv series trailer (with English Subtitle)
Innocent (Masum) Tv Series Trailer (with English Subtitle)
Innocent (Masum) tv series trailer (with Spanish Subtitle)
Innocent (Masum) Tv Series Trailer (with Spanish Subtitle)