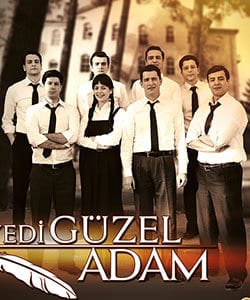 Details
Original Title:
Yedi Guzel Adam
English Title:
 Seven Good Men
Also Known As:
Genre:
Drama
,
Romance
,
History
Episodes:
39
Broadcast Network:
TRT 1
Broadcast Period:
April 19, 2014 – April 20, 2015
Production Company:
Pusula Film
Director:
Levent Demirkale
Screen Writer:
Silan Avci
Synopsis
Erdem (Uraz Kaygilaroglu) is a young guy who comes to his hometown after his undergraduate study and starts to work as a Turkish teacher at a high school where he was a former student. Erdem is an idealist teacher who inspires his students through his teaching poetry. He reunites with his high school friends years after and they decide to found a poetry journal.
In this story, you will explore the lives of seven men who start writing poetry during their highschool years and after then reunite again to found Mavera Journal. The story takes place in 1970s and is full of flashbacks to the time when main characters are high school students. The tv series tells a true life stories and can be considered as a documentary for Turkish literature.
Cast
Uraz Kaygilaroglu as Erdem
Yildiz Cagri Atiksoy as Zehra
Baran Akpulut as Cahit
Kemal Ucar as Nuri
Orhan Kanalp as Alaeddin
Mertcan Sevimli as Rasim
Cagdas Tekin as Ali
Fatih Murat Teke as Sait
External Links
Imdb:
Wikipedia:
Official Site: https://www.trt.tv/diziler/yedi-guzel-adam
You Might Also Like:
Remember Darling (Hatirla Sevgili)
Rose and Thorn (Cemberimde Gul Oya)