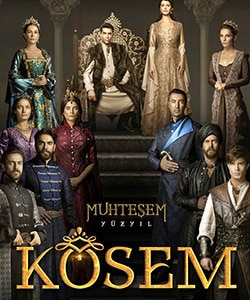 Details
Original Title: Muhtesem Yuzyil Kosem
English Title: Magnificent Century Kosem
Also Known As: Hareem-e Soltan: Kosem, Abad Kajayaan 2: Kosem, Wspaniałe stulecie: Sułtanka Kösem, Wspaniale stulecie: Sultanka Kösem
Genre: History, Drama, Romance
Episodes: 60
Season: 2
Broadcast Network: Star Tv
Broadcast Period: November 12, 2015 – June 27, 2017
Production Company: Tims Production
Director: Mert Baykal (1-30), Yagiz Alp Akaydin (1-30), Zeynep Gunay Tan, Deniz Kolos
Screen Writer: Yilmaz Sahin
Synopsis
Ahmed is an Ottoman Prince who has grown up with a fear of death since his childhood. He saw the coffins of his uncles (19 coffins) when his father acceded to the throne and innocently promised his brother that they would never kill each other if they ever become Ottoman Sultan. However, Ahmed's elder brother was killed on the order of his father, fearing a coup d'etat to dethrone him. Thus, Ahmed became so weak and introvert throughout his life.
Upon the death of his father, Ahmed accedes to the throne as the 14th Ottoman Sultan when he is just 17 years old. His life changes radically, he becomes the Sultan of Ottoman Empire, from 1603 to his death in 1617. Upon succeeding his father, Ahmed finds happiness in the portrait of a young girl who holds lamb in her hands.
Safiye Sultan (Hulya Avsar) presents this portrait to her grandson and decides to find this girl in order to make his grandson happier.
The portrait belongs to Anastasia (first, Anastasia Tsilimpiou and later, Beren Saat) who lives happily in Greece with her parents and little sister. The servants of Safiye Sultan find Anastasia and bring her to Topkapi Palace as a gift for Sultan Ahmed.

Sultan Ahmed and Anastasia start to have feelings for each other. Even though Anastasia swears that she would return to her homeland at all costs, she cannot leave Sultan Ahmed behind.
Anastasia takes in the name Kosem (leader, Pioneer) and starts to be passionate about becoming a powerful ruler in the world of men. First, she loses her innocence and then, loses everyone that she loves.
In magnificent century kosem (muhtesem yuzyil kosem) tv series story, you will explore passion, love, jealousy, controversy, intrigue, power struggles and secrets revolving around Ottoman Palace while going to the enchanting world of Ottoman Empire. Will Anastasia/Kosem manage to become the most powerful woman in the Ottoman history? Will Anastasia/Kosem rise through the ranks of the harem? Will Sultan Ahmed manage to become a strong Sultan and keep his promise that he would never kill his brother?
Magnificent Century Kosem Tv Series Cast
Beren Saat as Kosem (Season 1- from episodes 8)
Metin Akdulger as 4.Murat
Anastasia Tsilimpiou as Kosem (episodes 1-7)
Ekin Koc as Sultan Ahmed I (Season 1)
Hulya Avsar as Safiye Sultan (Season 1)
Tulin Ozen as Handan Sultan (Season 1)
Hande Dogandemir as Turhan Hatice Sultan
Aslihan Gurbuz as Halime Sultan (Season 1)
Vildan Atasever as Humasah Sultan (Season 1)
Dilara Aksuyek as Mahfiruze Sultan
Gulcan Arslan as Fahriye Sultan (Season 1)
Berk Cankat as Iskender/Sehzade Yahya (Season 1)
Erkan Kolcak Kostendil as Sahin Giray (Season 1)
Kadir Dogulu as Mehmet Giray (Season 1)
Serkan Keskin as Nefi
Mete Horozoglu as Zulfikar (Season 1)
Mehmet Kurtulus as Dervis Mehmet Pasha (Season 1)
Oyku Karayel as Dilruba Sultan (Season 1)
Melisa Ilayda Ozcanik as young Dilruba Sultan (Season 1)
Boran Kuzum as Sultan Mustafa I (Season 1)
Alihan Turkdemir as young Sultan Mustafa I (Season 1)
Taner Olmaz as Genc Osman (Season 1)
Mustafa Ustundag as Kara Davud Pasha (Season 1)
Cihan Unal as Kuyucu Murat Pasha (Season 1)
Esra Dermancioglu as Cennet Hatun (Season 1)
Nadir Saribacak as Bulbul Aga (Season 1)
Hakan Sahin as Haci Aga (Season 1)
External Links
Official Site: https://tims.tv/diziler/muhtesem-yuzyil-kosem
English Wikipedia:
Imdb:
Social
Instagram: https://www.instagram.com/myykosem/
Twitter: https://twitter.com/Myykosem
Facebook: https://www.facebook.com/myykosem
Youtube Channel: https://www.youtube.com/channel/UCHXdylbsyDVN4UO2Fv8CgmA
You Might Also Like
Magnificent Century (Muhtesem Yuzyil)
Resurrection Ertugrul (Dirilis Ertugrul)