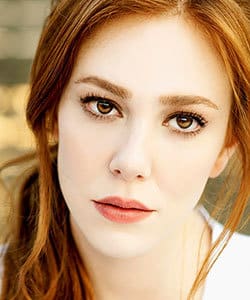 Profile
Name: Elcin Sangu
Birthdate: August 13, 1985
Birthplace: Izmir, Turkey
Height: 1,69 m
Eye Color: Hazel
Hair Color: Red
Education: Mersin University Conservatoire Department of Performing Arts Opera Singing; Sahne Tozu Theatre Acting Lessons
Talent Agency: Ahmet Koralturk Management
Spouse:
Biography: Elcin Sangu was born in 13 August 1985 in Izmir. She is actress and model. Before taking part in TV projects, she was a theatre player. Elcin Sangu took part in various tv series including Kurt Seyit and Sura; but she became well-known with her role Defne in popular romantic comedy Turkish drama Love for Rent (Kiralik Ask).

Elcin Sangu Tv Series / Movies
Awards
2015 – 1. Cypaparazzi Awards – Best New Actress (Love for Rent)

2015 – 42. Golden Butterfly TV Awards – Best Couple (Love for Rent)

2015 – 6. ITU Isletme Muhendisligi Sosyal Medya Awards – Most Social Actress (Love for Rent)

2016 – 14. YTU Yilin Yildizlari Awards – Most Loved Actress (Love for Rent)

2016 – Yeditepe Universitesi 4. Dilek Awards – Best Actress (Love for Rent)

2016 – 11. Makinistanbul Medya, Sanat ve Spor Awards – Best Couple (Love for Rent)

2016 – Ege Universitesi 5. Medya Awards – Best Actress (Love for Rent)

2016 – 3. Mersin Altin Palmiye Awards – Best Actress of the Year (Love for Rent)

2016 – Radyo Televizyon Gazetecileri Dernegi Media Oscars – Best Actress (Love for Rent)

2016 – YBU 1. Medya Awards – Best Actress (Love for Rent)

2016 – 10. GSU En Awards – Best Actress (Love for Rent)

2016 – Istanbul Aydin Universitesi 12. Iletisim Awards – Best New Actress (Love for Rent)

2016 – MGD 22. Altin Objektif Awards – Best Romatic Comedy Actress (Love for Rent)

2016 – Televizyon Dizisi Awards – Best Actress (Love for Rent)

2016 – 43. Pantene Golden Butterfly TV Awards – Best Comedy Actress (Love for Rent)

2016 – 7. IMK Sosyal Medya Awards – Best Actress (Love for Rent)

2018 – 11. GSU En Awards – Best Actress (Crash)

2019 – 1. Turkiye Cocuk Awards – Best Actress (Crash)
Theatre Plays
2022 – Sehirde Kimse Yokken (as Rukiye)
2022 – Jekyll & Hyde (as Lucy Harris)
Music videos
2014 – Soz Olur (Toygar Isikli)
2017 – Bu Su Hic Durmaz (Elcin Sangu & Baris Arduc)
Social
Instagram: @elcinsangu
Twitter: @elcnsng
Facebook:
E-Mail:
Trivia
Body Type:
Languages: English, Italian
Skills: Singing, Opera
Star Sign:
Blood Type:
Hobbies:
Elcin Sangu Gallery
Elcin Sangu & Baris Arduc Soundtrack (Bu Su Hic Durmaz)
Elcin Sangu & Baris Arduc Soundtrack
Elcin Sangu – Magazine Cover BackStage Shooting
Elcin Sangu Turkish Actress #ElcinSangu