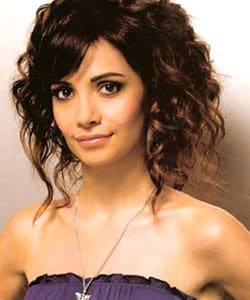 Profile
Name: Songul Oden
Birthdate: February 17, 1981
Birthplace: Diyarbakir, Turkey
Height: 168 cm
Eye Color: Brown
Hair Color: Brown
Education: Ankara University DTCF Theatre School, Hacettepe University State Conservatory Part Time Singing Training
Talent Agency: Id Iletisim
Spouse: Canberk Ucucu (m. 2002–2011)
Biography: Songul Oden was born in 17 February 1981 in Diyarbakir. Daughter of a contractor father and a housewife mother. Spent her childhood in Diyarbakir and then moved to Ankara. Songul Oden took part in different theatre plays in Ankara, Trabzon, and Diyarbakir and took part in Trabzon State Theatre during 1993-2000.

Songul Oden Tv Series / Movies
1993 – Mrs. Ferhunde (Ferhunde Hanimlar)
2001 – Will (Vasiyet) (as Ruhinaz)
2002 – Cloud in the Sky (Havada Bulut) (as Ayse)
2005 – 2007 Silver (Gumus) (as Gumus Dogan)
2007 – Sinir (as Didem) (Short Movie)
2008 – Abandoned Heart (Vazgec Gonlum) (as Ezra)
2009 – Bitter Love (Aci Ask) (as Ayse Derbent) (Movie)
2010 – 72. Ward (72. Kogus) (as Meryem) (Movie)
2010 – Perfect Couple (Mukemmel Cift) (as Ayca Basaran)
2011 – 2014 Desperate Housewives (Umutsuz Ev Kadinlari) (as Yasemin Anday Kalyoncu)
2015 – Swaying Waterlily (Ruzgarda Salinan Nilufer) (as Handan) (Movie)
2015 – My Destiny (Serce Sarayi) (as Serce)
2016 – Sour Apples (Eksi Elmalar) (as Turkan Ozay)
2017 – Phi (Fi) (as Yildiz Kolhan)
2017 – Kayitdisi (as Zeynep)
2019 – Bir Aile Hikayesi (as Reyhan Gunes)
2021 – Seref bey (as Nese)
2021 – Beni Cok Sev (as Nuriye)
2022 – Wild Abandon (Uysallar) (as Nil Uysal)
2022 – My Son (Oglum) (as Zeynep Yalcin Kaya)
Awards
2008 –

8. Lions Theatre Awards (8. Lions Tiyatro Odulleri) – Best Lead Actress (Kadinciklar)

– En Iyi Kadin Oyuncu Odulu (Kadinciklar 2007)
2008 –

33. Ismet Kuntay Theatre Awards (33. Ismet Kuntay Tiyatro Odulleri) – Ismet Kuntay Incentive Award (Kadinciklar)

– Ismet Kuntay Ozendirme Odulu (Kadinciklar 2007)
2011 –

17. Siyaset Magazine Awards (17. Siyaset Dergisi Odulleri) – Special Award of Year (Yilin Ozel Odulu)

2012 –

2. Ankara Young Businessmen Association Women Platform Awards (2. Ankara Genc Isadamlari Dernegi (ANGIAD)

Kadin Platformu Odulleri) – Best Actress (En Iyi Kadin Oyuncu Odulu)
2012 –

Muscat Film Festival (Muscat Film Festivali) – Honor Award (Onur Odulu)

2012 –

3. Quality of Magazines – Best Actress (Desperate Housewives)

– Yilin En Iyi Kadin Oyuncusu Odulu (Umutsuz Ev Kadinlari)
2012 –

televizyondizisi.com – Best Actress (Desperate Housewives)

– En Iyi Kadin Oyuncu Odulu (Umutsuz Ev Kadinlari)
2012 –

MGD 18. Golden Objective Awards (MGD 18. Altin Objektif Odulleri) – Best Comedy Actress (Desperate Housewives)

– Yilin En Iyi Komedi Dizisi Kadin Oyuncusu (Umutsuz Ev Kadinlari)
2013 –

Lions Theatre Awards (Lions Tiyatro Odulleri) – Best Actress (Little Man, What Happened To You)

– En Iyi Kadin Oyuncu Odulu (Kucuk Adam Ne Oldu Sana)
2013 –

Kavram Dershaneleri – Best Actress (Desperate Housewives)

– En Iyi Kadin Oyuncu odulu (Umutsuz Ev Kadinlari)
2017 –

Okan Universitesi – Best Cinema Actress (Swaying Waterlily)

– En Iyi Kadin Sinema Oyuncu Odulu (Ruzgarda Salinan Nilufer )
2017 –

20. Flying Broom International Women's Film Festival (20. Ucan Supurge Uluslararasi Kadin Filmleri Festivali) – Special Prize (Ozel Odul)

2017 –

22. Sadri Alisik Awards (22. Sadri Alisik Odulleri) – Cinema Jury Special Prize (Sour Apples)

– Sinema Secici Kurul Ozel Odulu (Eksi Elmalar)
2017 –

Bilkent Universitesi – Best Actress

(En Iyi Kadin Oyuncu Odulu)
2017 –

28. Ankara Film Festival (28. Ankara Film Festivali) – Best Actress (Swaying Waterlily)

– En iyi Kadin Oyuncu (Ruzgarda Salinan Nilufer)
Theatre Plays
1993 – Yerma
1998 – Mutlu Son
1999 – Yasar Ne Yasar Ne Yasamaz
2000 – Birimiz Hep Icin
2003 – Dort Mevsim
2003 – Hortlak
2003 – Ne Kadinlar Sevdim
2007 – Kadinciklar
2011 – Kesanli Ali Destani
2012 – Kucuk Adam Ne Oldu Sana?
2013 – Kafkas Tebesir Dairesi
2019 – Lal Hayal
Social
Instagram: Official Instagram Account
Twitter: Official Twitter Account
Facebook: Official Facebook Account
E-Mail:
Songul Oden Gallery
Showreel