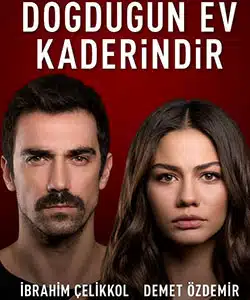 Details
Original Title: Dogdugun Ev Kaderindir
English Title: The House You Were Born is Your Destiny
Also Known As: My Home My Destiny, My Home
Genre: Drama, Romance
Episodes: 43
Broadcast Network: Tv8
Broadcast Period: December 25, 2019 – May 12, 2021
Production Company: OGM Pictures
Director: Cagri Bayrak
Screen Writer: Eylem Canpolat (1-27), Aysenur Siki (1-27), Defne Gursoy (1-27), Doruk Erengul (2/5-27), Seray Sahiner (1-33), Selcan Ozgur (33-43), Berrin Tekdemir (37-43), Firuze Engin (38-43)
Filming Locations: Istanbul, Turkey
Synopsis
The script is based on a true story and adapted from the novel by Gulseren Budayicioglu named as Girl behind the Glass (Camdaki Kiz).
Zeynep (Demet Ozdemir) is a young and beautiful girl who comes from a poor family but has been raised by a wealthy family. When she is 7 years old, her father gives the custody of her daughter to a wealty family and gets some money in return. Zeynep's biological mother Sakine (Zuhal Gencer) takes a difficult decision and accepts this offer so that her lovely daughter could have an opportunity to go to school and have a decent life.
Even though Zeynep's biological parents are both alive, she lives together with her foster-parents in order to have a good education. Her biological mother Sakine works as a cleaning lady of the house where Zeynep lives. Her biological father Bayram (Sinan Demirer) works as a construction worker and has alcohol problem. On the other hand, her foster parents Nermin (Senan Kara) and Ekrem (Nail Kirmizigul) are well educated and belong to high society.

Due to her special situation, Zeynep is torn apart completely. She receives first class education, hangs out with rich friends, and lives in a big mansion nearby Bosphorus. However, she hides the truth behind her perfect life. Nobody in the high society knows about Zeynep's biological parents and everybody assumes that Nermin and Ekrem are her parents.
Zeynep usually feels quilty for not disclosing the facts about her family. Her boyfriend Faruk (Engin Hepileri) who comes from a wealthy family also does not know Zeynep's special situation. Zeynep has been dating with Faruk for 1 year and still does not have courage to disclose her secret.
On the day of her birthday, Zeynep is amazed by a surprise birthday party organized by her boyfriend. Everybody in the high society attends to the party. Faruk makes another surprise and proposes in front of everyone. Zeynep accepts the marriage proposal but feels uncomfortable somehow. She feels the burden of her secret on her shoulders.
Meanwhile, Zeynep's biological mother Sakine comes to the party without being invited just to give her birthday present. When Faruk and Sakine bump into each other, Zeynep finds herself in a difficult situation and cannot introduce her biological mother properly. When Zeynep cannot make an explanation, Faruk assumes that Sakine is Zeynep's caretaker. Upon this unpleasant situation, Sakine leaves the event and feels more in depth that her daughter has been moving away from her biological parents.
The next day, Sakine also learns that her daughter is going to get married to Faruk, who is from high society. Zeynep's foster mother does not want to disclose Zeynep's special situation neither to Faruk nor to Faruk's family. She wants Zeynep to go to abroad together with Faruk after the marriage so that she could be away from her poor parents.
Following this development, Sakine feels that she would lose her daughter forever if Zeynep gets married to someone from high society. Thus, she persistently disapproves this marriage and wants her daughter back. When she learns that Mehdi (Ibrahim Celikkol), who is a handsome guy from the neighborhood, is looking for a girl to get married, Sakine persuades her daughter for a blind date.
Zeynep unwillingly goes to meeting place in order not to hurt mother. At the same time, Mehdi accepts this blind date in order to get rid of her mother's complaining. When Zeynep and Mehdi come across to each other, they feel the harmony and attraction between them. Even though they come from different backgrounds, they get along with each other very well.
My home my destiny (dogdugun ev kaderindir) tv series story is about a beautiful girl who comes from a poor family but has been raised by a wealthy family. Will Zeynep accept to get married to Mehdi or Faruk? Will Zeynep find it easy to leave her foster parents behind and go back to her poor life? Will Mehdi get along with Zeynep?
My Home My Destiny (Dogdugun Ev Kaderindir) Tv Series Cast
Demet Ozdemir

as Zeynep Goksu

Ibrahim Celikkol

as Mehdi Karaca

Engin Hepileri

as Faruk

Zuhal Gencer

as Sakine

Sinan Demirer

as Bayram

Senan Kara

as Nermin

Nail Kirmizigul

as Ekrem

Nursim Demir

as Zeliha

Zeynep Kumral

as Mujgan

Elif Sonmez

as Cemile

Kyara Zabci

as Yasemin

Mehmet Korhan Firat

as Celal

Helin Kandemir

as Kibrit / Dilara

Emir Talha

as Yaldiz Ali

Naz Goktan

as Emine

Hulya Duyar

as Sultan

Engin Ozturk

as Baris Tunahan

Fatih Koyunoglu

as Nuh

Incinur Sevimli

as Benal

Kaan Altay Koprulu

as Savas Tunahan

Macit Tastan

as Murat

Hakan Salinmis

as Ali Riza

Gulcan Arslan

as Nesrin / Gulbin Goksu

Firat Dogruloglu

as Tarik

Inanc Konukcu

as Metin

Ebru Cundubeyoglu

as Ozlem Tunahan Poyraz

Kazim Sinan Demirer

as Bayram

Teoman Kumbaracibasi

as Burhan

Kayra Zabci

as Yasemin

Alp Akar

as Remzi

Ali Oguz Senol

as Tolga
External Links
Official Site: Broadcast Network
English Wikipedia:
Imdb:
Social
Instagram: @dogdugunevkaderindir
Facebook: @dogdugunevkaderindirresmi
Twitter: @dogdugunev
Youtube Channel: @DogdugunEvKaderindir
You Might Also Like
Bride of Istanbul (Istanbullu Gelin)
My Home My Destiny (Dogdugun Ev Kaderindir) Turkish Drama Relationship Chart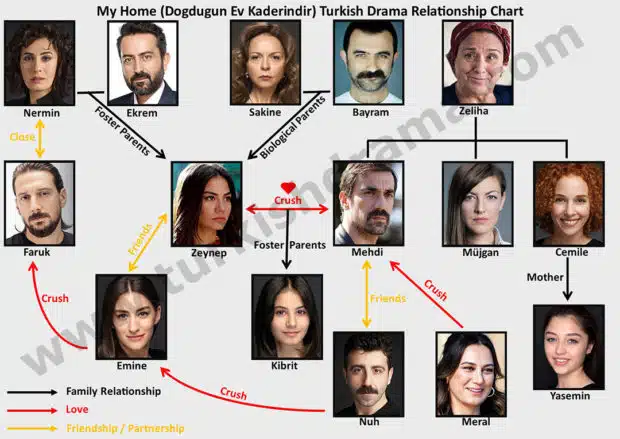 My Home My Destiny (Dogdugun Ev Kaderindir) Tv Series Trailer (with English Subtitle)
My Home My Destiny (Dogdugun Ev Kaderindir) Tv Series Trailer (Eng Sub)