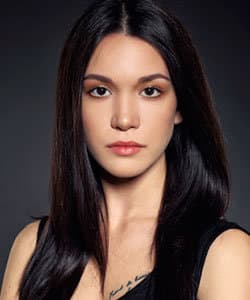 Profile
Name: Hazal Subasi
Birthdate: May 2, 1996
Birthplace: Izmir, Turkey
Height: 166 cm
Eye Color: Brown
Hair Color: Brown
Education: Izmir Ekonomi University Public Relations and Marketing (Izmir Ekonomi Universitesi Halkla Iliskiler ve Reklamcilik bolumu)
Talent Agency: Talento Cast Agency
Spouse:
Biography: Hazal Subasi was born in 02 May 1996 in Izmir. She became one of the finalists in beauty contest named Elidor Miss Turkey in 2016. After then, she started her tv career. She made her debut with her role in Daily Turkish series You Name It (Adini Sen Koy).

Hazal Subasi Tv Series / Movies
2016 – 2018 You Name It (Adini Sen Koy) (as Zehra Kaya Kervancioglu)
2018 – One Hope is Enough (Bir Umut Yeter) (as Elif Ozkan Karabey)
2018 – 2019 The Circle (Halka) (as Bahar Berkes)
2019 – 2021 The Pit (Cukur) (as Nehir Bursali)
2021 – Bizi Ayiran Cizgi (as Sinem Egilmez)
2022 – Kasaba Doktoru (as Doctor Leyla Erpek)
2022 – Olum Kime Yakisir
2022 – Sicak Kafa
Social
Instagram: Official Instagram Account
Twitter: Official Twitter Account
Facebook:
E-Mail:
Trivia
Chest: 85
Waist: 62
Hips: 90
Size: 32-34
Shois Size: 37
Body Type:
Skills:
Star Sign:
Blood Type:
Hobbies:
Hazal Subasi Gallery