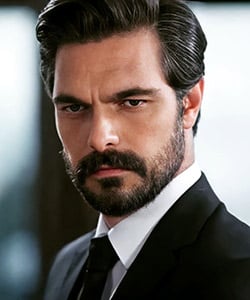 Profile
Name: Halil Ibrahim Ceyhan
Birthdate: December 13, 1982
Birthplace: Sivas, Turkey
Height: 186 cm (6′ 1¼")
Eye Color: Brown
Hair Color: Black
Education:
Talent Agency: Oyuncu Bankasi Casting
Spouse:
Biography: Halil Ibrahim Ceyhan was born in 13 December 1982 in Sivas. In 2007, he was awarded as "Promising Male Model" at the competition of Best Model of Turkey. After then, he started his music career and worked with Suat Aydogan. He launched his first music single named Kaybettim (literally I Lost) in 2007. His music #KendiniBanaBirak (literally Leave Yourself to Me) has 2 million views on YouTube. Halil Ibrahim Ceyhan also writes song lyrics (has given his songs to Serdar ortac and Oguz Berkay Fidan). Halil Ibrahim Ceyhan started his acting career in 2019 after taking acting lessons.

Halil Ibrahim Ceyhan Tv Series / Movies
Awards
From Interview of Halil Ibrahim Ceyhan
How was your childhood?
I was very independent. I was born in Sivas and grown up there. I am the eldest of my 3 siblings. My father was a factory worker.
You have been good at many things. You are singer, songwriter, composer, photo model, and actor. How did you start your career?
When I was a child, I used to change song lyrics instead of playing soccer. I was mimicking the Turkish film actors after watching their movies. I was not aware of the fact that it was a job during that time.
Can you tell us yourself?
I am very conscientious. I am fond of my family. In my spare time, I usually try to work for my personal growth. I love playing with children. I do not like standard/monotone works.
How did you discover that you have a beautiful voice?
They always say that I have a beautiful voice. I started my music career through writing songs. I did not aim to become a singer. I wrote many songs to popular Turkish singers such as Suat Aydogan. Suat said to me "Why are you not singing?". Then, it happened.
Do you prefer being a singer or actor?
Acting. You can act different characters.
You have a large fan community thanks to your tv series Legacy. Do you get along well with your acting partner Sila on the set?
We don't have time for a discussion. It is fun and enjoyable. We sometimes do critics about the screenplay.
Do you have an unforgettable memory on the set?
We were shooting a scene at the cemetery for Yaman's father. A woman came to me and said that "I love you so much, I want to take a photo with you. I always tell my husband about you too. He also loves you. Can we all three take a photo together?". I said "Of course, we can. Where is your husband?". She showed me a grave where her husband stays. This is an interesting memory for me. She loved our tv series so much and mentioned it to her husband just beside his grave.
Each actor gives something to each character that he plays. Do you have that kind of contribution to Yaman Kirimli?
Yaman uses body language a lot, that does not resemble to any character in Turkey. I took "wing chun" lessons and I may have contributed a lot to action scenes of Yaman.
Do you have a goal concerning your acting career?
I want to be much more international. Legacy (Emanet) tv series have been shown in 18 countries. We have been watched in overseas. That makes me so happy.
What is love for you?
It is a passion. Going after the one who cannot be abandoned. It is a place where you feel good.
How is your friendship?
Faithful. I never hold a grudge. I am open to anyone who is open to me. I even disregard a situation where they do something behind my back.
What makes you so angry?
Injustice.
Are you romantic?
It depends on a person, occasion, and place. I am usually controlled, I control my emotions.
Do you have a strong memory?
Yes, absolutely. Everything is an experience for us. If we forget something, we can do same mistakes.
What things do you pay much money?
Watch, shoe, and cars..
Social
Instagram: Official Instagram Account
Twitter:
Facebook:
E-Mail:
Trivia
Body Type:
Skills:
Zodiac Sign: Sagittarius
Blood Type:
Hobbies:
Weight: 76 kg
Halil Ibrahim Ceyhan Gallery
Halil Ibrahim Ceyhan Showreel
Halil Ibrahim Ceyhan – Kendini Bana Birak (Official Video)
Halil İbrahim - Kendini Bana Bırak (Official Video)