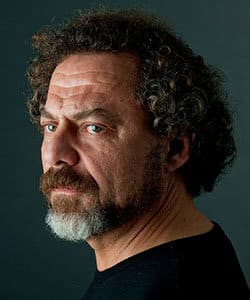 Profile
Name:
Bulent Emin Yarar
Birthdate:
January 1, 1961
Birthplace:
Ankara, Turkey
Height:
cm
Eye Color:
Green
Hair Color:
Black
Education:
Mimar Sinan University State Conservatory – Theatre (Mimar Sinan Universitesi Devlet Konservatuvari) (1989)
Talent Agency:
Yasemin Ozbudun Talent Management
Spouse:
Bennu Yildirimlar
(m. 1995 – present)
Biography:
Bulent Emin Yarar was born in Ankara. Since his childhood, he has been interested in theatre. After graduating from Mimar Sinan University, he started to work at Diyarbakir State Conservatory and then worked at Istanbul State Conservatory during 1994-1995. He took part in various theatre plays including Balkon (Jean Genet) at Tiyatro Studyosu, Cyrano de Bergerac at Tiyatro Studyosu, Ermisler ya da Gunahkarlar at Oyun Atolyesi, Mem ile Zin at Semaver Kumpanyasi, Cayhane ve Mufettis (Gogol) at Istanbul State Theatre, Oyun Sonu at Dostlar Tiyatrosu, and so on. He became popular with his role as teacher Kemal in popular Turkish drama Those at the Back Desks (Arka Siradakiler). Bulent Emin Yarar also gives lectures at Kadir Has University.
Bulent Emin Yarar Tv Series / Movies
1989 – Bye (Hoscakal) (Movie)
1993 – Super Dad (Super Baba)
1998 – Run for Money (Kac Para Kac) (Movie)
2002 – Mud (Camur) (as Halil) (Movie)
2004 – Hen (Disi Kus) (as Resat Nuri)
2004 – The Eye of the Heart (Kalp Gozu)
2004 – Mommy, I'm Scared! (Korkuyorum Anne) (Movie)
2006 – Times and Winds (Bes Vakit) (as Imam) (Movie)
2006 – Father of a Girl (Kiz Babasi) (as Cevahir Kilic)
2007 – 2011 Those at the Back Desks (Arka Siradakiler) (as Kemal Gungor)
2007 – Zincirbozan (as Bulent Ecevit) (Movie)
2008 – Son of Sun (Gunesin Oglu) (as Kurban Murat) (Movie)
2009 – Five Cities (Bes Sehir) (as Tevfik) (Movie)
2009 – Our Lesson is Ataturk (Dersimiz Ataturk) (Movie)
2010 – Teacher Kemal (Ogretmen Kemal) (as Kemal Gungor)
2011 – The Extremely Tragic Story of Celal Tan and His Family (Calal Tan ve Ailesinin Asiri Acikli Hikayesi) (as Ergun) (Movie)
2011 – The Beginning (Short Movie)
2012 – My Hearth Four Seasons (Kalbim 4 Mevsim) (as Cezmi)
2013 – 20 Minutes (20 Dakika) (as Kedi)
2014 – Mixed Tape (Karisik Kaset) (as Ali) (Movie)
2014 – Yunus Emre (Yunus Emre: Askin Sesi) (Movie)
2015 – The Past (Gecmis) (as Yusuf) (Movie)
2016 – Black Sea (as Hakkı) (Movie)
2017 – Chaos (Kaos) (Movie)
2018 – The Deep (Dip) (as Ali Kemal)
Awards
2006 – 13. International Golden Cocoon Film Festival (13. Uluslararasi Altin Koza Film Festivali) – Best Actor in Supporting Role (Times and Winds) – En Iyi Yardimci Erkek Oyuncu (Bes Vakit)
2010 – 17. International Golden Cocoon Film Festival (17. Uluslararasi Altin Koza Film Festivali) – Best Actor in Supporting Role (Five Cities) – En Iyi Yardimci Erkek Oyuncu (Bes Sehir)
2016 – 4. International Antakya Golden Daphne Film Festival (4. Uluslararasi Antakya Altin Defne Film Festivali) – Best Actor (The Past) – En Iyi Erkek Oyuncu (Gecmis)
Social
Instagram:
Twitter:
Facebook:
E-Mail:
Bulent Emin Yarar Gallery
Bulent Emin Yarar – Hamlet (Eng Sub)
Bulent Emin Yarar - Hamlet (Eng Sub)