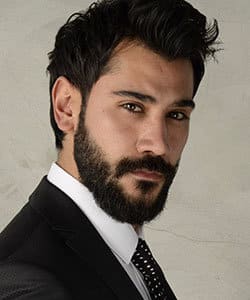 Profile
Name: Ugur Gunes
Birthdate: January 13, 1987
Birthplace: Ankara, Turkey
Height: 181 cm
Eye Color: Hazel
Hair Color: Black
Education: Ankara University – Theatre (Ankara Universitesi Dil Tarih Tiyatro Bolumu)
Talent Agency: Ates Management
Spouse:
Biography: Ugur Gunes was born in Ankara in 13 January 1987. He has one brother and one sister. He spent his childhood in Ankara and started acting at Ankara Art Theatre with the suggestion of his friend. After graduating from Ankara University Language, History and Theatre School, he also took acting lessons. He made his debut on tv with Turkish drama Start Again (Yeniden Basla). He became very popular with his role Tugtekin in popular Turkish drama Resurrection Ertugrul (Dirilis Ertugrul).

Ugur Gunes Tv Series / Movies
2011 – Start Again (Yeniden Basla) (as Eray)
2012 – 2013 Don't Worry About Me (Benim Icin Uzulme)
2013 – Are We Ok? (Tamam miyiz?) (as Serhat) (Movie)
2013 – Seytan-i Racim (as Emrah) (Movie)
2014 – 2017 Resurrection Ertugrul (Dirilis: Ertugrul) (as Tugtekin)
2014 – Devoted (Urfaliyam Ezelden) (as Cetin)
2016 – Seddulbahir 32 Saat (as Huseyin)
2017 – Nameless Squad (Isimsizler) (as Fatih)
2018 – 2021 Bitter Lands (Bir Zamanlar Cukurova) (as Yilmaz Akkaya)
2019 – Cep Herkulu: Naim Suleymanoglu (as Cemal Tunali) (Movie)
2021 – 2022 Lawless Lands (Kanunsuz Topraklar) (as Davut Karaman)
2022 – Dumlupinar: Vatan Sagolsun (Movie)
Social
Instagram: Official Instagram Account
Twitter: Official Twitter Account
Facebook:
E-Mail:
Ugur Gunes Gallery