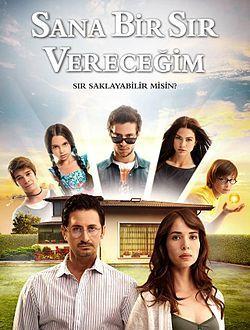 Details
Original Title: Sana Bir Sir Verecegim
English Title: I'll Tell You a Secret
Also Known As:
Genre: Supernatural, Action, Drama
Episodes: 30
Broadcast Network: Fox Tv
Broadcast Period: July 5, 2013 – February 2, 2014
Production Company: Scor Films
Director: Filiz Gulmez Pakman
Screen Writer: Ethem Ozisik
Filming Locations: Istanbul, Turkey
Synopsis
"I'll Tell You A Secret" is the first Turkish fantastic drama.
Sevgi (Esra Ronabar) is the mother of a young girl who has disappeared mysteriously. While searching her daughter, out of pure coincidence, Sevgi meets Mehmet (Murat Han) who has a little son.
These two parents discover that their children have superhuman abilities. In order to save their children from evil pursuers, they decide to leave everything behind and start a new life together. On their journey, they also meet different children who have superhuman abilities.

Kivanc (Ekin Koc) has the ability to be invisible.
Aylin (Demet Ozdemir) has the ability to give electricity.
Burak has the ability to take shape of the person he touches.
Gurcan has the ability to move things with his mind.
Zeynep has the ability to read people's minds.
Sevgi, Mehmet and these children create new identities and start to live all together. They act as a normal family while they are trying to understand the reason of the superhuman abilities.
In i'll tell you a secret (sana bir sir verecegim) tv series story, you will explore the lives of ordinary kids who discover superhuman abilities. Will Sevgi eventually save her daughter from evil pursuers? Will Sevgi and Mehmet create a safe environment for the kids with extraordinary powers?
I'll Tell You A Secret Tv Series Cast
Murat Han as Mehmet
Esra Ronabar as Sevgi
Ekin Koc as Kivanc / Tilki
Demet Ozdemir as Aylin
Berk Cankat as Savas Yapici
Ipek Bagriacik as Meltem Aladag
Bora Cengiz as Levent
Dila Danisman as Cagla
Burak Can as Burak
Metehan Sezer as Gurcan
Su Burcu Yazgi Coskun as Zeynep
Dilsad Simsek as Esra
Gazanfer Unduz as Kunduz
Sumeyra Koc as Sifaci
External Links
Official Site: https://www.fox.com.tr/Sana-Bir-Sir-Verecegim/
English Wikipedia:
Imdb:
You Might Also Like