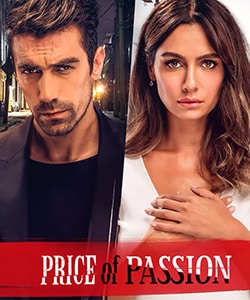 Details
Original Title: Siyah Beyaz Ask
English Title: Black White Love
Also Known As: Price Of Passion
Genre: Romance, Drama, Action
Episodes: 32
Broadcast Network: Kanal D
Broadcast Period: October 16, 2017 – May 28, 2018
Production Company: D Productions
Director: Yasin Uslu
Screen Writer: Eylem Canpolat, Sema Ergenekon
Filming Locations: Istanbul, Turkey
Synopsis
Asli (Birce Akalay) is a young and beautiful doctor who is dedicated to save the lives of her patients. She even sacrifices her own life for the sake of her patients. She is so free-spirited and thinks that she can change the lives of people through love and effort.
Asli lives happily with her brother named Cem (Ugur Aslan) who works as a police officer. Cem is also passionate about his job and does whatever is needed without any fear. After their parents' death, Cem has become the head of the family and does his best to protect his sister Asli.

On the other hand, Ferhat (Ibrahim Celikkol) is young and cold-hearted guy who works as a hitman. After his father's death, he moves to Istanbul together with his mother, sister, and brother. Ferhat sacrifices his own life for the sake of his family and starts to work with his uncle Namik (Muhammet Uzuner). Ferhat believes that Namik is his uncle but in fact, Namik is his biological father. Without knowing this secret about the past, Ferhat becomes the most trustworthy man of Namik and starts to carry out all the illegal activities.
The lives of Asli and Ferhat intersect out of pure coincidence. While trying to catch a man who betrays their business, Ferhat shoots this man. In order to make this guy speak, Ferhat wants to keep him alive and brings Asli for the wounded man's recovery.
Asli, at first, does not understand that she has been brought by the criminals. She does her best to save this wounded man. Eventually, she finds out that there is something wrong and tries to escape from that ranch house located in the countryside. However, Ferhat does not let her go and starts to captive her one of the barns in the ranch house.
Meanwhile, Asli's brother Cem starts to work together with Ferhat's brother for the purpose of disclosing the criminal activities of Namik. Cem comes to the ranch house without knowing that his sister has been kept there. He starts to investigate the activities of Namik and shows Ferhat that he is not afraid of anything.
During that time, Asli witnesses that Namik is a murderer. She promises to keep her mouth shut and not to tell anything to anyone including her police brother Cem. No matter how hard she tries, she cannot manage to persuade them. Her death certificate is signed by Namik. And Ferhat is assigned to kill her.
Just before Ferhat shoots Asli, he wants to give her a last chance. Ferhat would save the life of Asli on the condition that she would get married to her. Ferhat knows that the people who belong to his family are automatically under the protection. If Asli accepts to be his wife, she can survive.
In price of passion (siyah beyaz ask – black white love) tv series story, you will watch the story of Ferhat and Asli who are just black and white. Will Asli accept to get married to Ferhat in order to save her life? What is the aim of Ferhat after he gets married to Asli? Will Cem manage to disclose the criminal activities of Ferhat? Will Ferhat and Asli have a real marriage?
Price of Passion (Siyah Beyaz Ask) Tv Series Cast
Additional Cast Members
Kivanc Kasabali as Sinan
Cahit Gok as Cuneyt
Ugur Aslan as Cem
Sinem Unsal as Gulsum Aslan
Kadriye Kenter as Handan Adakli
Ozlem Zeynep Dinsel as Vildan
Timur Olkebas as Abidin
Fatih Topcuoglu as Dilsiz
Ceylan Odman as Deniz
Burcu Cavrar as Hulya
Selin Sekerci as Ayhan Dagistan
Macit Koper as Azad Dagistan
Characters
Ferhat comes to Istanbul when he is 11 years old and and starts to work together with his uncle Namik. He is cold-hearted and fearless. He thinks that he has buried the love inside him until death.
Asli never loses her hope towards life and works as a successful doctor. She is so helpful not only towards people but also towards animals.
Yigit is Ferhat's brother. He becomes a successful prosecutor who has chosen to become a good and honest man just like his father. Yigit has witnessed how his brother Ferhat has been involved in the world of crime. He decides to combat with the criminals in this world of crime and collaborates with Cem.
External Links
Official Site: Broadcast Network
English Wikipedia:
Imdb:
You Might Also Like
Black Money Love (Kara Para Ask)
Brave and Beautiful (Cesur ve Guzel)
Price of Passion (Siyah Beyaz Ask) Turkish Drama First Trailer
Black White Love - Price of Passion (Siyah Beyaz Ask) First Trailer
Price of Passion (Siyah Beyaz Ask) Tv Series Trailer – 1 (with English Subtitles)
Black White Love - Price of Passion (Siyah Beyaz Ask) Trailer (Eng Sub)
Black White Love – Price of Passion (Siyah Beyaz Ask) Trailer (with English Subtitles)
Black White Love - Price of Passion (Siyah Beyaz Ask) Trailer 2 (Eng Sub)