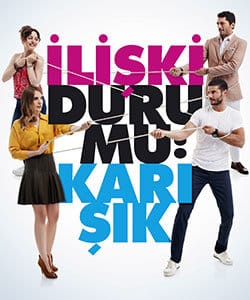 Details
Original Title: Iliski Durumu Karisik
English Title: Relationship Status: It's Complicated
Also Known As: Status Palsu, Mein Ayesha Gul, It's Complicated, Full House, زواج مصلحة
Genre: Comedy, Romance
Episodes: 40
Broadcast Network: Showtv
Broadcast Period: July 4, 2015 – April 27, 2016
Production Company: MF Yapim
Director: Bulent Isbilen
Screen Writer: Banu Kiremitci
Synopsis
The tv series is the remake of Korean tv series Full House (2004).
Aysegul (Seren Sirince) is an innocent and cheerful girl who lives in her big and beautiful house that she inherited from her late parents. She lives all alone and writes scripts for tv series. One day, her two best friends trick her into believing she has won a free vacation in Greece. She accepts a free trip and goes to Greece. During her vacation, she meets famous actor Can (Berk Oktay) but the meeting does not go well and ends up with her throwing up on him. Out of pure coincidence, they end up staying at the same hotel.
When Aysegul arrives at the hotel, she learns that she does not have a reservation on her name. With the help of a young and handsome guy named Murat (Pamir Pekin), she eventually attains a room at the hotel. However, she understands that there is something wrong but she cannot reach her friends who have given her the so-called free trip. She also realizes that she has no money. Therefore, she borrows money from Can and safely arrives at her home.
When Aysegul arrives home, she finds out that her house has been sold to Can. She understands that her best friends have sold the house when she is away. While staying without hope at the outside of her house, Can helps her and lets her stay at the house if she accept to become his maid who will be responsible for cleaning and cooking. Aysegul has nothing to do but to accept the offer in order to stay at her house and pay her debt to Can.
The comic sequence of events let them to make a marriage contract. Can wants to spark some jealousy for his childhood love Elif (Eda Ece) and get the media's attention off for a while. Aysegul, on the other hand, wants to receive her house back. Therefore, they decide to pretend a married couple for 6 months.
In It's Complicated tv series story, you will explore the life of Aysegul and Can who pretend to be a married couple but in fact, do not get along with each other very well. Will Aysegul and Can start to fall in love with each other eventually? Will this fake marriage turn into a real life love? Will Aysegul manage to receive her house back at the end of marriage contract?
It's Complicated: Cast
Seren Sirince as Aysegul
Berk Oktay as Can
Eda Ece as Elif
Pamir Pekin as Murat
Nurseli Idiz as Media
Sezai Altekin as Ismail
External Links
Imdb: http://www.imdb.com/title/tt4875520/
Wikipedia: https://en.wikipedia.org/wiki/İlişki_Durumu:_Karışık
Official Site: http://www.showtv.com.tr/dizi/tanitim/iliski-durumu-karisik/1434
You Might Also Like:
Love Once Again (Ask Yeniden)
Game of Love (Ask Oyunu)