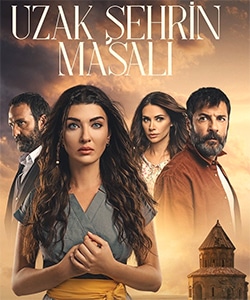 Details
Original Title: Uzak Sehrin Masali
English Title: The Tale of the Far City
Also Known As:
Genre: Drama, Romance
Episodes: 5 (each episode is 150 minutes)
Broadcast Network: Fox tv
Broadcast Period: 12 September 2021 – 14 October 2021
Production Company: 25 Film
Director: Mustafa Sevki Dogan
Screen Writer: Can Sinan; Alper Caglayan
Filming Locations: Kars, Turkey
Synopsis
Umay (Aslihan Guner) is a beautiful woman who is married and has two children. She is the bride of Demirkanlar family and lives in a big mansion together with his mother-in-law Aliye (Zeynep Eronat).
Umay suffers from her husband's cruelty and domestic violence. Even though her husband Affan (Timur Acar) loves her, he drinks alcohol and cannot control his anger.

Umay has been married to Affan for 17 years. Despite being unhappy, she does not end her marriage just for the sake of her children. Her daughter is 15 years old while her son is 6 years old. Her son suffers from Williams syndrome and smiles all the time in every circumstance. Hence, Affan is shamed of his son and does not look for any treatment for his son.
One night, Umay reaches the end of her rope. She learns that the young maid who is living in their house is pregnant with Affan's baby. The maid gives birth to a healthy son who would be considered as the heir of Demirkanlar family due to the fact that Umay's son is sick.
Umay cannot accept this fact. She has forgiven her husband for many times and she does not have any patience for this time. Her husband and her mother-in-law are happy to have a healthy heir for Demirkanlar family. Umay cannot accept the fact that she has been betrayed for a long time by the people who have been living together in the same house and looking at her eyes every day.
Umay decides to run away from Demirkanlar mansion together with her daughter and her son. On her way, her husband Affan takes his son for the hope that Umay would return to his house. However, Umay goes to her hometown village which is located in the border of Armenia. She stays at her sister Sonay's (Begum Birgoren) house for a couple of days and then, goes to the house inherited from her parents where she was born and raised.
Umay is determined to have a new life together with her daughter and her son apart from Demirkanlar family. She wants to work at her parents' dairy farm and provide a decent life for her children.
Out of pure coincidence, the lives of Umay and Kursat intersect.
Kursat (Baris Kilic) is a middle aged fugitive person who has been searched by the police at the border of Armenia. He is injured while escaping from the police and hides in a desolated and empty house. However, that house is owned by Umay's parents. Even though it has been empty for years, Umay and her daughter show up all of a sudden in the middle of the night.
The Tale of the Far City (Uzak Sehrin Masali) tv series story is about a difficult life of Umay who has been suffering from the cruelty of her husband. Will Umay manage to start a new life together with her children apart from her husband? Will Kursat help Umay? Will Umay manage to find a treatment for her son?
The Tale of the Far City (Uzak Sehrin Masali) Tv Series Cast
Additional Cast Members
Zeynep Eronat as Aliye Demirkan
Gokhan Bekletenler as Selim Koroglu
Eylem Tanriver as Efsun Cukurovali
Irem Ecem Basarir as Besime Yilmaz
Ali Berge as Murat Karaarslan
Dilan Demircioglu as Sena Degirmenci
Derya Pinar Ak as Elif Demirkan
Baran Deniz Yuksel as Melik Demirkan
Huseyin Erkanli as Petty Officer
Ugur Ulku as Newspaper Owner
External Links
Official Site: Broadcast Network
English Wikipedia:
Imdb:
You Might Also Like
Gulperi
The Tale of the Far City (Uzak Sehrin Masali) Tv Series Trailer (with English Subtitle)
Uzak Şehrin Masalı Yakında FOX'ta!