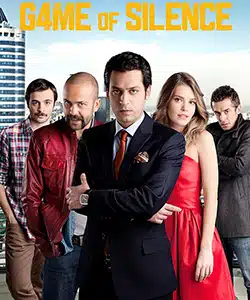 Details
Original Title: Suskunlar
English Title: Sleepers
Also Known As: Game of Silence (Usa), Silence Game, Tihi momci
Genre: Action, Romance, Drama
Episodes: 28
Broadcast Network: Show TV
Broadcast Period: January 07, 2012 – December 02, 2012
Production Company: Tims Production
Director: Umur Turagay, Cagatay Tosun, Cagri Lostuvali
Screen Writer: Pinar Bulut
Filming Locations: Istanbul, Turkey
Synopsis
Ecevit (Murat Yildirim), Bilal (Sarp Akkaya), Zeki (Tuncay Mercan), and Ibrahim (Guven Murat Akpinar) are four young boys who are close friends and are living in the same neighborhood. There is also a beautiful girl, Ahu (Asli Enver), who is in love with Ecevit.
These four boys have a normal life just like any other child. They have dreams and at the same time, they have the ambition and energy to fulfill these dreams. However, one day, their lives turn upside down. One tragedy changes everything and ends their happy lives.
During the circumcision ceremony, Bilal really scares and asks his friends for help. They decide to escape from the house and hide for a while until Bilal calms down. However, they are accidentally involved in a car accident. They kill an old man while driving a car and this one mistake transforms their lives.

Because of this tragedy, they are sent to a children detention center for 6 months. They just think that after 6 months everything will be same again. However, their days in prison become a nightmare for them. They are brutalized by some of the children in the prison.
Unfortunate and devastating events never end until the day they are free again. While they are leaving from the prison, they also say goodbyes for their childhood.
They make a pack that they will not see each other again and they will remain silent. In order to forget the things in prison, they promise each other.
They keep their promise for years. They never see each other and they try to forget their pasts. Ecevit leaves his neighborhood and becomes a successful lawyer.
Zeki also goes another place and becomes a driver for a successful businessman. Bilal and Ibrahim try to handle this tragedy by helping each other, for this reason, they continue to live in their neighborhood but they never become normal again. Only Ecevit becomes successful in life.
Years later, these four men become together again. They break their pack and return to exact their vengeance.
In game of silence (suskunlar) tv series story, you will watch a revenge of five men while exploring mystery, twisting events, love, friendship, and hatred at the same time. Will revenge fill the emptiness in their hearths? Will they forget about their past and live the rest of their lives peacefully? What will happen to their friendship? Will the childhood love between Ecevit and Ahu blossom again after long years?
Game of Silence (Suskunlar) Tv Series Cast
Murat Yildirim as Ecevit Oran (nickname sheriff)
Sarp Akkaya as Bilal Tutkun (nickname blond)
Tuncay Mercan as Zeki Sinanli (nickname heartsick)
Guven Murat Akpinar as Ibrahim Kene (nickname bony)
Asli Enver as Ahu Kumral
Pelin Akil as Nisan Agazade
Reha Ozcan as Sait Karam
Berk Hakman as Gurur Kutay
Mehmet Ozgur as Irfan Alkara (nickname takoz)
Ozge Sezince as Sibel
Elif Atakan as Gulten
Mert Asutay as Huseyin
Fatih Pasali as Ozcan Tiryaki (nikname yarasa)
Jale Aylanc as Umran Kene
Firat Albayram as Hasan (nikname cakal)
Batuhan Basibuyuk as Ferhat
Alican Yucesoy as Cebrail
External Links
Official Site: https://eng.tims.tv/diziler/game-of-silence
Official Site 2: https://www.showtv.com.tr/dizi/tanitim/suskunlar/1041
English Wikipedia:
Imdb:
Facebook: https://www.facebook.com/suskunlardizisiofficial/
You Might Also Like
Ezel
Game of Silence – Sleepers (Suskunlar) Tv Series Trailer (with English Subtitle)
Game of Silence (Suskunlar) Tv Series Trailer (Eng Sub)
Tv Series Season 2 Trailer (with English Subtitle)
Game of Silence (Suskunlar) Season 2 Trailer (Eng Sub)