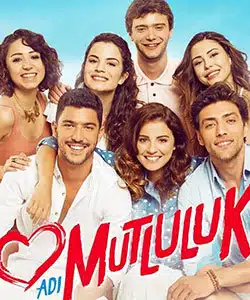 Details
Original Title: Adi Mutluluk
English Title: Its Name is Happiness
Also Known As: Happiness
Genre: Romance, Youth
Episodes: 17
Broadcast Network: Fox Tv
Broadcast Period: June 23, 2015 – October 13, 2015
Production Company: Surec Film
Director: Ersoy Ozlevi
Screen Writer: Aksel Bonfin, Hakan Bonomo
Synopsis
Kumsal (Ezgi Eyuboglu) is a young girl who has everything but is not happy. She does whatever her father says and she does not feel like she has freedom. In order to get her freedom, she wants to go to university in Istanbul. However, her father wants her to go to university in Izmir where they live and wants her to become a successful architect just like him. Despite her father's will, Kumsal secretly applies for a university in Istanbul and gets acceptance.
When her father does not approve her decision, Kumsal finds herself in a desperate situation. Meanwhile, she bumps into Batu (Kaan Yildirim) who is a handsome and carefree guy.
Batu also gets acceptance from a university in Istanbul but he says that he would not be able to go to Istanbul due to lack of money. These two young persons decide to find happiness no matter how hard it is and they decide to run away to Istanbul together.

On their way, Batu has to leave Kumsal behind without saying anything because he has to get rid of the men who follow him. Since Kumsal does not know what is going on, she just assumes that she has been swindled by Batu.
Soon after, Kumsal bumps into Batu in Istanbul again. Troubles arise as they realize the differences between money and the real world and they soon learn what love is.
In happiness (adi mutluluk – its name is happiness) tv series story, you will explore the lives of young people who seek for happiness. Will Kumsal learn why Batu has left her behind? Will Kumsal and Batu find happiness in Istanbul? Will Batu manage to solve problems in his life?
Happiness (Adi Mutluluk) Tv Series Cast
Ezgi Eyuboglu as Kumsal Guclu
Kaan Yildirim as Batu Degirmenci
Ceyhun Mengiroglu as Eren Yuksel
Asli Bekiroglu as Sera Yuksel
Dilara Aksuyek as Dolunay Degirmenci
Zeynep Bastik as Gonca Gul Duran
Oycun Iynemli as Tatli
Yagizcan Konyali as Zeki Kubilay
External Links
Imdb:
Wikipedia:
Official Site: https://www.fox.com.tr/Adi-Mutluluk/
You Might Also Like:
Strawberry Smell (Cilek Kokusu)