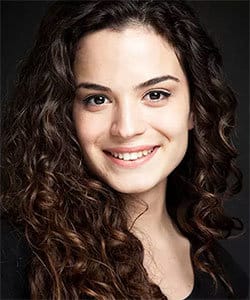 Profile
Name: Asli Bekiroglu
Birthdate: November 16, 1995
Birthplace: Istanbul, Turkey
Height: 162 cm
Eye Color: Brown
Hair Color: Brown
Education: Bahcesehir University – Nutrition and Dietetic (Bahcesehir Universitesi Beslenme ve Diyetetik)
Talent Agency: Icon Talent Management
Spouse:
Biography: Asli Bekiroglu was born in 1995 in Istanbul. She was discovered through her videos uploaded in Vine and became a social media phenomena. After then, she took part in various tv commercials. Asli Bekiroglu started her tv career with popular Turkish drama Love Me As I Am (Beni Boyle Sev) in 2013.
Asli Bekiroglu Tv Series / Movies
2013 – 2014 Love Me as I Am (Beni Boyle Sev) (as Ayca)
2015 – Its Name is Happiness (Adi Mutluluk) (as Sera Yuksel)
2016 – Smile You (Gulumse Yeter) (as Yasemin)
2016 – For Both of Us (Ikimizin Yerine) (as Ceylan) (Movie)
2017 – My Travel Buddy (Yol Arkadasim) (as Bahar) (Movie)
2018 – Dudullu Postasi (as Betul)
2018 – Jet Society (Jet Sosyete) (as Melike)
2019 – My Sweet Lie (Benim Tatli Yalanim) (as Suna)

Social
Instagram: https://www.instagram.com/aslibekiro/
Twitter: https://twitter.com/aslibekiro
Facebook:
Youtube: https://www.youtube.com/channel/UC6yxEQAlBYwfwkxirHAlAXg
E-Mail: [email protected]
Trivia
Body Type:
Skills:
Star Sign:
Blood Type:
Hobbies:
Gallery
Love on the Brain cover
Asli Bekiroglu - Love on the Brain cover
Asli Bekiroglu & Bartu Urkmez Interview (Funny)