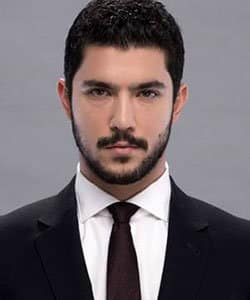 Profile
Name: Kaan Yildirim
Birthdate: December 24, 1986
Birthplace: Istanbul, Turkey
Height: 180 cm
Eye Color: Brown
Hair Color: Black
Education: London Brunel University Marketing (Londra Brunel Universitesi Pazarlama Bolumu)
Talent Agency: Renda Guner
Spouse: Ezgi Eyuboglu (m. 2016–2019)
Biography: Kaan Yildirim was born in 24 December 1986 in Istanbul. After graduating from London Brunel University, he took acting lessons. Kaan Yildirim made her debut with his role in Turkish drama Missing (Kayip) yet he became very popular with his role as Ferdi in popular Turkish drama Ulan Istanbul. While shooting Its Name is Happiness (Adi Mutluluk), he started to date his role partner Ezgi Eyupoglu and was engaged in 2015. Kaan Yildirim and Ezgi Eyupoglu got married in Ortakoy Esma Sultan Yalisi in May 15th, 2016.
Kaan Yildirim Tv Series / Movies
2013 – Missing (Kayip) (as Kadir)
2014 – Buddy Istanbul (Ulan Istanbul) (as Ferdi)
2014 – Ummu Sibyan: Zifir (Movie)
2015 – Its Name Is Happiness (Adi Mutluluk) (as Batu)
2016 – Kalbim Yangin Yeri (as Volkan Koyukan)
2016 – No Way 2 (Yok Artik 2) (Movie)
2017 – Keyboard Guys (Klavye Delikanlilari) (as Kerem Tanriverdi)
2017 – Troop (Boluk) (Movie)
2018 – Crime of Humanity (Insanlik Sucu) (as Cemal Gokdemir)
2018 – 2019 The Circle (Halka) (as Kaan Karabulut)
2019 – Hekimoglu (as Mehmet Ali Caglar)

Awards
Social
Instagram: https://www.instagram.com/kaannyildirimm/
Twitter: https://twitter.com/kaanyildirim_
Facebook: https://www.facebook.com/kaanyildirimresmi/
E-Mail: [email protected]
Trivia
Body Type:
Skills:
Star Sign:
Blood Type:
Hobbies:
Kaan Yildirim Gallery
Shooting Backstage
Kaan Yildirim - BackStage
Showreel
Kaan Yildirim (Turkish Actor)