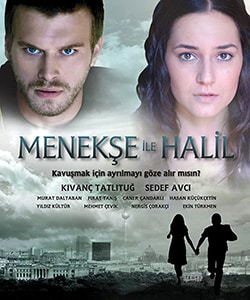 Details
Original Title: Menekse ile Halil
English Title: Menekse and Halil
Also Known As: Mirna & Khalil (Arabic), Miran wa Khalil (Arabic), Menekse si Halil (Romania)
Genre: Romance, Drama
Episodes: 36
Broadcast Network: Kanal D
Broadcast Period: September 07, 2007 – May 24, 2008
Production Company: Ay Yapim
Director: Uluc Bayraktar
Screen Writer: Melek Gencoglu, Ece Yorenc
Synopsis
Menekse (Sedef Avci) and Halil (Kivanc Tatlitug) work at the same patisserie and love each other. Their love is so profound, strong and pure. Halil is a Bosnian young man who has a secret that he cannot tell even Menekse about. This secret has haunted him for most of his life and is a heavy burden on his shoulders.
Menekse, on the other hand, is a 20-year old Turkish girl who lives with her family. Menekse conceals their relationship from her family because her father is very conservative. Her father, Hasan (Mehmet Cevik), uses forces her to marry one of their fellow citizens, Mustafa (Hasan Kucukcetin) who offers a lot of money in return.
Menekse and Halil don't give up their love, even if they are separated from each other. They escape to Istanbul leaving everything behind. However, their story becomes more complicated when Menekse's husband Mustafa and her brother Kadir (Caner Candarli) arrive in Istanbul too in order to find them.

In menekse and halil tv series story, you will explore an impossible love story which starts in Berlin and drifts to Istanbul. Will their escape solve every trap on their paths? Will Menekse and Halil give up their love? Will they eventually reach happiness?
Menekse and Halil Tv Series Cast
Kivanc Tatlitug as Halil Tuglu
Sedef Avci as Menekse Tuglu
Mehmet Cevik as Hasan Doganturk
Hasan Kucukcetin as Mustafa Genc
Caner Candarli as Kadir Doganturk
Firat Tanis as Yusuf Doganturk
Murat Daltaban as Mithat Ates
Yildiz Kultur as Zarif Doganturk
Nergis Corakci as Suheyla Doganturk
Ekin Turkmen as Zeynep Sonmez
Tamay Kilic as Lale Doganturk
Gokcer Genc as Omer Ceylan
Gulce Ugurlu as Emine Degirmen
Begum Benian as Sema Ates
Main Characters' Other Popular Dramas
Kivanc Tatlitug: Silver (Gumus), Forbidden Love (Ask-i Memnu)
Sedef Avci: Ezel
External Links
Official Site: https://www.ayyapim.com/menekse-ile-halil
Official Site 2: https://www.kanald.com.tr/menekseilehalil
English Wikipedia:
Imdb:
You Might Also Like
Silver (Gumus)
Unforgettable (Unutulmaz)
Menekse and Halil Tv Series Trailer (with English Subtitle)
Menekse and Halil Tv Series Trailer