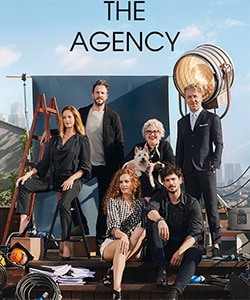 Details
Original Title: Menajerimi Ara
English Title: The Agency
Also Known As: Call My Agent (literal title), Dix Pour Cent
Genre: Drama, Comedy
Episodes: 45
Broadcast Network: Star Tv
Broadcast Period: 25 August 2020 – 11 July 2021
Production Company: Ay Yapim
Director: Ali Bilgin (episodes 1-9); Deniz Celebi Dikilitas (episodes 10-)
Screen Writer: Yelda Eroglu (episodes 1-7); Yesim Citak (episodes 1-7); Emine Yildirim (episodes 1-7); Ekin Atalar (episodes 8-34)
Filming Locations: Agent company EGO is the building named 42 Plaza which is located in Maslak, Istanbul.
Synopsis
Dicle (Ahsen Eroglu) is a young girl who studied in the Radio and Television School in Antalya. After graduation, she decides to come to Istanbul in order to work in the heart of entertainment world in Turkey. Even though she applies for many jobs in the television sector, she cannot manage to find any job.
After one month of job search, Dicle understands that she cannot find a job without any reference in the entertainment sector. As a last resort, she takes her courage and decides to meet his father Kirac (Baris Falay) who works in the entertainment sector.

Dicle has not seen her father for a long time. She has been raised by her mother in Antalya apart from her father. She knows that his father is just like a stranger but still, she hopes that she could get his help.
Kirac does not want to destroy his perfect life. He has kept his biological daughter secret through all this time and does not want to reveal this secret. Hence, he wants Dicle to return Antalya and work one of the companies there. He makes it clear that he only cares about his happy life together with his wife Mayda (Asli Mavitan) and his daughter Beren (Yaprak Medine).
Out of pure coincidence, Dicle becomes ready at the right place at the right time. When she comes to the talent agency EGO where her father works, she finds out a job opportunity. Dicle becomes willing to fill the vacant position for assistantship.
Dicle makes a contract immediately and accepts all the working conditions. According to her contract, she will have flexible working hours and will be ready to work all the time 7 days/24 hours. Also, she needs to prove herself during the testing period of one month. If she ever quits her job or be fired, she will not be able to work in another talent agency for 2 years.
Even though the working conditions are so tough, Dicle becomes so happy to find a job. She aims to prove her credentials, becomes successful in the entertainment sector, and show her father that she could achieve without his help.
There are four agents Kirac, Feris (Canan Erguder), Cinar (Fatih Artman), and Peride (Aysenil Samlioglu) working under the talent agency EGO. These four agents have different personalities and they struggle to handle tricky situations in each day while defending their clients. However, their work is so challenging because their clients are popular actors and actresses who have different demands. The agents of EGO do their best to skillfully balance their private and professional lives while fighting in the wild world of celebrity.
Dicle enters to this wild world and is determined to say "I am here too". She becomes the assistant of Feris and stars to work together with his father at the same company. She tries her best not to reveal the fact that she the biological daughter of Kirac.
Meanwhile, Dicle comes across to a new actor Baris (Deniz Can Aktas) who is the client of EGO. They are attracted from each other but they try to do their best in order not to conflict their private lives with professional lives.
The story becomes complicated after the sudden death of EGO's founder who owns the majority stake in the company.
The Agency (Menajerimi Ara) tv series story is about four agents and their assistants who work in the talent agency EGO. Will Dicle manage to become successful in the entertainment sector and prove her credentials? Will Dicle get along well with her father Kirac? Will Feris find a qualified assistant eventually? What will the agents do when the founder of EGO die?
The Agency (Menajerimi Ara – Call My Agent) Tv Series Cast
External Links
Official Site: https://www.startv.com.tr/video/arsiv/dizi/menajerimi-ara
English Wikipedia:
Imdb:
Social
Instagram: https://www.instagram.com/menajerimiaradizi/
Twitter:
Facebook:
Youtube Channel: https://www.youtube.com/channel/UC4m9DyDmlReBfUSOkhed0Yg
Characters:
Kirac Ozdal (Baris Falay): He is one of the agents in the talent agency EGO. He is the biological father of Dicle. When Dicle is a little child, Kirac leaves her daughter behind and goes to Istanbul. After then, he never call her and gets married to Mayda who comes from a wealthy family. Kirac keeps it secret that Dicle is his own daughter. He is ambitious and selfish.
Feris Dikmen (Canan Erguder): She is one of the agents in the talent agency EGO. She is reckless, perfectionist, and self-confident. She hires Dicle as her assistant. She gets along well with Cinar and considers him as a sincere friend.
Cinar Bilgin (Fatih Artman): He is one of the agents in the talent agency EGO. He is emotional, sincere, and friendly. He considers his clients as friend.
Serkan Tahtaci (Serhat Teoman): He used to be one of the agents in the talent agency EGO. He returns to Istanbul from the USA and starts to work at EGO. Later on, he buys the shares of EGO from Mayda's father.
Dicle Ertem (Ahsen Eroglu): She is the assistant of Feris and biological daughter of Kirac. She has been raised by her mother in Antalya. She cannot forgive her father since he left them. She comes to Istanbul and tries her best to prove herself before her father's eyes.
Baris Havas (Deniz Can Aktas): He is one of the actors and works with his agent Feris. He has made his debut recently and become popular in a very short time. He comes from a poor family background and finds it hard to get used to live in an entertainment world.
Peride Sener (Aysenil Samlioglu): She is one of the agents in the talent agency EGO. She is the most experiences agent in the company. She usually work with experienced Turkish actors and actresses.
Gulin Yetik (Gamze Karaduman): She is Kirac's assistant.
Emrah Ayoglu (Semi Sirtikkizil): He is Cinar's assistant.
Julide Tirmik (Nazli Senem Unal): She is the secretary at EGO.
You Might Also Like
Daydreamer (Erkenci Kus)
The Agency (Menajerimi Ara) Turkish Drama Relationship Chart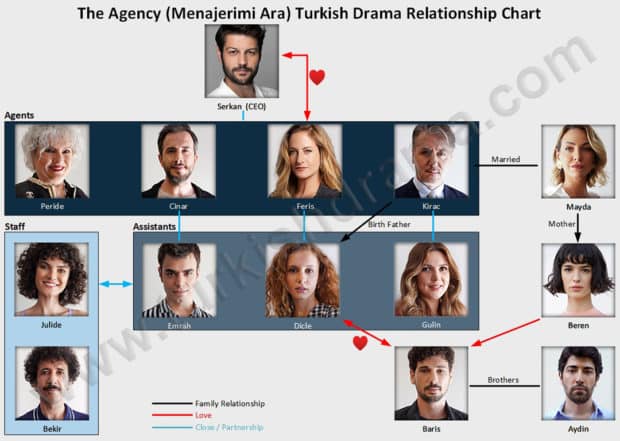 The Agency (Menajerimi Ara – Call My Agent) Tv Series Trailer (with English Subtitle)
The Agency (Menajerimi Ara - Call My Agent) Tv Series Trailer (Eng Sub)
The Agency (Menajerimi Ara – Call My Agent) Tv Series Trailer – 2 (with English Subtitle)
The Agency (Menajerimi Ara - Call My Agent) Tv Series Trailer - 2 (Eng Sub)