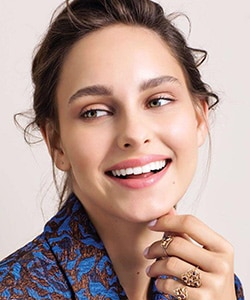 Profile
Name: Jessica May
Birthdate: December 5, 1993
Birthplace: Paranacity, Paraná, Brazil
Height: 175 cm (5′ 9″)
Eye Color: Green
Hair Color: Brown
Education: Department of Biological Sciences (Biyolojik Bilimler Bolumu) (drop-out)
Talent Agency: Edit Management
Spouse: Huseyin Kara (m. 2018-present)
Biography: Jessica May was born in 5 December 1993 in Paranacity, Brazil. She was raised in a farm until she was 15 years old. Her mother is a teacher while her father is a farmer. She has a brother who is studying veterinary. Jessica May won Biologic Science School but took a break in her school life when she started to work as a model. Jessica May likes dogs and tries to do her best to help stray dogs. One of her aims is to found an animal farm for stray dogs.
Jessica May Tv Series / Movies
2017 – 2018 New Bride (Yeni Gelin) (as Bella Bozok)
2019 – Dert Bende (as Pelin) (Movie)
2020 – Maria and Mustafa (as Maria)

Awards
2017 – Golden Almond Awards (Altin Badem Odulleri) – Best Actress (Yeni Gelin) – En Iyi Kadin Oyuncu (Yeni Gelin)
2017 – Moon Life Journal Awards (Moon Life Dergisi Odulleri) – Best Turkish Actress (Yeni Gelin) – En Iyi Kadin Dizi Oyunusu (Yeni Gelin)
2018 – Istanbul University Golden 61 Awards (Istanbul Universitesi Altin 61 Odulleri) – Best Turkish Actress (New Bride) – En Iyi Kadin Oyuncu (Yeni Gelin)
2018 – 23. MGD Golden Objective Awards (23. MGD Altin Objektif Odulleri) – Best Turkish Actress for Comedy (New Bride) – En Iyi Komedi Dizi Oyuncusu (Yeni Gelin)
2019 – Okan University Best of the Year (Okan Universitesi Yilin Enleri) – Best Foreign Actress (New Bride) – En Iyi Yabanci Oyuncu (Yeni Gelin)
2019 – Golden Palm Awards (Altin Palmiye Odulleri) – Best Turkish Actress for Comedy (New Bride) – En Iyi Komedi Dizi Oyuncusu (Yeni Gelin)
Commercials
2016 – Turkish Airlines (Turk Hava Yollari)
2018 – 2019 Ozdilek
Social
Instagram: https://www.instagram.com/jessicamayofficial/
Twitter: https://twitter.com/jessicamay_br
Facebook:
E-Mail:
Trivia
Body Type:
Skills:
Star Sign:
Blood Type:
Hobbies:
Weight:
Jessica May Gallery
Jessica May Video Promotion