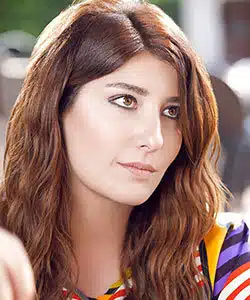 Profile
Name: Sebnem Bozoklu
Birthdate: August 20, 1979
Birthplace: Istanbul, Turkey
Height: 160 cm
Eye Color: Green
Hair Color: Brown
Education: 9 Eylul University Fine Arts School – Theatre (9 Eylul Universitesi Tiyatro) (1996-2000); Mujdat Gezen Art Center – Acting (Mujdat Gezen Sanat Merkezi Oyunculuk Bolumu) (2000-2004)
Spouse: Emre Izer (m. 2010-2016)
Biography: Sebnem Bozoklu's mother is of Egyptian descent while her father is from Isaprta, Turkey. After graduating from 9 Eylul University, she studied at Mujdat Gezen Art Center – Acting. Between 2005-2006, she worked at Cisenti Theatre. Sebnem Bozoklu became very popular with her role Meliha at popular Turkish drama Dear Family (Canim Ailem).
Notable Works
2006 – Selena (as Ceylan)
2008 – 2009 Dear Family (Canim Ailem) (as Meliha)
2008 – Remedy (Derman) (as Vildan)
2008 – Yes Sir (Emret Komutanim)
2011 – Our Aunt-In-Law (Bizim Yenge) (as Filiz)
2012 – Happy Family Book (Mutlu Aile Defteri) (Movie)
2013 – Brave Nurse (Cesur Hemsire) (as Ceyda)
2013 – Galip Dervis (as Sevin Sezgin)
2013 – Cold (Soguk) (as Fincan) (Movie)
2014 – Buddy Istanbul (Ulan Istanbul) (as Yaren Nevizade)
2014 – Human Inside Me (Icimdeki Insan) (as Nejla) (Movie)
2015 – Niyazi Gul, the Galloping Vet (Niyazi Gul Dortnala) (as Hediye) (Movie)
2015 – No More (Yok Artik) (as Asuman) (Movie)
2016 – Albume (Album) (as Bahar Bahtiyaroglu) (Movie)
2016 – Altinsoylar (as Gulsum Altinsoy / Kocabas)
2016 – No More 2 (Yok Artik 2) (as Merve) (Movie)
2016 – Double Happiness (Cifte Saadet) (as Perihan Saadet)
2017 – Dear Dear (Tatlim Tatlim) (Movie)
2018 – Stranger at My Phone (Cebimdeki Yabanci) (Movie)
Awards
2009 – 36. Golden Butterfly TV Stars Awards (36.Altin Kelebek Tv Yildizlari Odulleri) – Best Actress (Comedy) (Dear Family) – En Iyi Kadin Oyuncu (Komedi) (Canim Ailem)
2010 – 32.Radio-Television Journalists Association Oscars (32. Radyo-Televizyon Gazetecileri Dernegi Oskarlari) – Best Actress (Dear Family) – En Iyi Kadin Oyuncu (Canim Ailem)
2017 – 22. Sadri Alisik Awards (22. Sadri Alisik Odulleri) – Best Actress (Albume) – En Iyi Kadin Oyuncu (Album)
Social
Instagram: https://www.instagram.com/sebnembozoklu/
Twitter: https://twitter.com/sebnembozoklu
Facebook:
Gallery