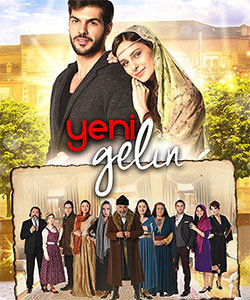 Details
Original Title: Yeni Gelin
English Title: New Bride
Also Known As:
Genre: Comedy, Family, Romance
Episodes: 15+
Broadcast Network: Show TV
Broadcast Period: March 11, 2017 –
Production Company: Surec Film
Director: Ersoy Guler
Screen Writer: Ersoy Guler
Synopsis
Bella (Jessica May Drociunas) is an educated young girl who comes from an aristocratic background. She was born in Milan, Spain as the only daughter of a Turkish father – an ambassador of Turkey and a Spanish high-society mother.
Bella finds her prince charming at university. Hazar (Tolga Mendi) is the heir of a tribe from Adana (a city in the East of Turkey). His tribe is known as a Bozok family who is devoted to their customs and traditions.
Bella and Hazar fall in love with each other even though they come from different family backgrounds. After 3 years of happy relationship during their university education, Hazar proposes and Bella gladly accepts his proposal. Without taking their parents' approval, Hazar and Bella get married and start a new life. Bella follows her husband to his home at Adana despite her parents' reservations.
Bella assumes to have an exotic Eastern adventure in Adana. However, nothing turns out to be as expected. Hazar's family also disapproves their marriage because they have to break their promise to the other tribe. Hazar has been engaged to Dilan (Silan Makal) from other tribe in order to end the enemy between these two tribes. Now, Hazar's new bride is Bella and he cannot get married to Dilan. This situation enkindles the enemy between these two tribes.

Additionally, Bella has a modern outlook on life due to a Spanish mother and Turkish father. Her modern outlook is not welcomed by the women of the Bozok family.
After initial hesitations, Bozok family organizes a beautiful wedding ceremony. However, the day after the wedding, Bella realizes that her place in the family, as the New Bride, is at the bottom of the hierarchy. She is supposed to act as a maid, follow the orders from the rest of the family, do house chores all alone and respect for her elders. Even though she has a university degree and a modern outlook, she tries to do her best in order to get Bozok family's approval.
But, Bella's job is not easy at all. She has 1 father-in-law, 3 mother-in-laws, 2 brother-in-laws, 2 co-sister-in-laws, 1 aunt, 1 uncle, and 1 sister-in-law who are all living in the same house. Her father-in-law Kalender Agha (Mustafa Avkiran) has been married with 3 women: Asiye (Yonca Sahinbas), Mohteber (Sema Kecik), and Ayse (Zeynep Kankonde).
Bella finds it so hard to please the women of the Bozok family. This is because; all women of the Bozok family take a decision and act together in order to send back Bella. Thus, they try to do everything that would make Bella unhappy and discouraged.
The story becomes more complicated when Bella's parents also come to Adana to take care of their daughter.
In new bride (yeni gelin) tv series story, you will explore a family comedy that illustrates different Turkish cultures through the eyes of a foreign bride. Will Bella manage to adjust her new life in Bozok family? Will Bella manage to get Bozok family's consent? How will Bozok family act after they break their promise to the other tribe? Will Hazar and Bella eventually have a happy marriage?
New Bride (Yeni Gelin) Cast
Jessica May Drociunas as Bella
Tolga Mendi as Hazar
Daghan Kulegec as Kagan
Mustafa Avkiran as Kalender Agha
Yonca Sahinbas as Asiye
Sema Kecik as Mohteber
Zeynep Kankonde as Ayse
Esin Gundogdu as Turkmen Abla
Murat Kocacik as Hasan
Lale Basar as Kamilla
Renan Bilek as Kamil
Burcin Bildik as Muslim
Silan Makal as Dilan
External Links
Official Site: http://www.showtv.com.tr/dizi/tanitim/yeni-gelin/1752
English Wikipedia:
Imdb: http://www.imdb.com/title/tt7561642/
Social
Twitter: https://twitter.com/yenigelindizi
Instagram: https://www.instagram.com/yenigelindizi/
Facebook: https://www.facebook.com/YeniGelinDiziTV/
You Might Also Like
Foreign Groom (Yabanci Damat)
New Bride (Yeni Gelin) Gallery
New Bride (Yeni Gelin) Tv Series First Trailer
New Bride (Yeni Gelin) Tv Series First Trailer
New Bride (Yeni Gelin) Turkish Drama Trailer (Eng Sub) (HD)
New Bride (Yeni Gelin) Turkish Drama Trailer (Eng Sub)
Generic Song
New Bride (Yeni Gelin) Turkish drama generic music