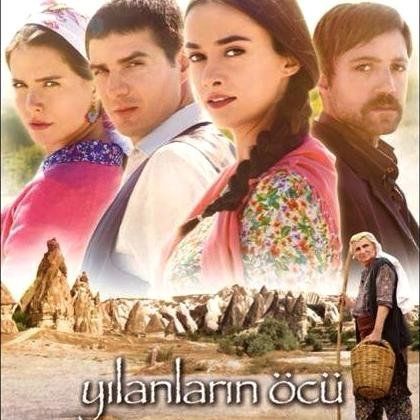 Details
Original Title: Yilanlarin Ocu
English Title:  Revenge of Snakes
Also Known As: 
Genre: Drama, Romance
Episodes: 49
Broadcast Network: Show Tv
Broadcast Period:  August 27, 2014 – December 2, 2015
Production Company: Koliba Film
Director:  Cemal San
Screen Writer: Ali Esen Bilen, Bekir Baran Sitki, Rana Mamatlioglu
Synopsis
Bayram (Cemal Toktas) comes from a small village in Cappadocia area in Turkey. He does his military service and is looking forward to go back to his hometown, continue to work as a farmer and support his mother and his little sister. There is only two days left to finish his military duty. However, in his last day, he finds himself in a dangerous situation. As being a soldier, Bayram goes to give assistance to put out fire and help people in need. There, he shows a great courage and rescues a young girl Fatma (Hande Soral) and her brother Omer (Burak Can) from house fire.
Bayram falls in love the girl whom he has rescued at first sight. Since he finishes his military duty, he returns to his village desperately . He thinks that he will never see his first love again.
Meanwhile, Fatma tries to continue her life. Since her parents have passed away and they have lost all their belongings at fire, she has nothing to do but to go to her uncle whom she has never met before. Without hope, Fatma and her brother go to Cappadocia where their uncle lives. Out of pure coincidence, Bayram and Fatma meet again. This time, their destiny intersects in Cappadocia.
In this story, you will watch the rebellion against the hierarchy in the small village. Will Fatma find peace in Cappadocia? Will Bayram disclose his love to Fatma?
Cast
Cemal Toktas as Bayram
Hande Soral as Fatma
Ruchan Caliskur as Irazca
Nail Kirmizigul as Kamuran
Ahmet Varli as Haceli
Ceyda Ates as Zahide
Mehmet Atay as Husnu
Sebnem Dilligil as Mahmure
Eyup Baysi as Ilyas
Servet Pandur as Remziye
Hande Kaptan as Serife
Nalan Orgut as Hikmet
Aycan Koptur as Habibe
Burak Can as Omer
Erden Alkan as Necip
Ceyda Kasabali as Elif
Gonca Yakut as Nesrin
Gozde Cigaci as Hatce
Sibel Sisman as Ayse
External Links
Imdb:
Wikipedia:
Official Site:
You Might Also Like:
Ezo Gelin