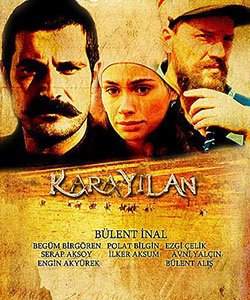 Details
Original Title: Karayilan
English Title: Black Snake
Also Known As: Al Hob wal Harb (Arabic)
Genre: Historical, Romance
Episodes: 18
Broadcast Network: ATV
Broadcast Period: November 19, 2007 – May 6, 2008
Production Company: Sis Yapim
Director: Cem Akyoldas, Feride Kaytan
Screen Writer: Aycan Giritlioglu
Synopsis
After fulfilling his 7-year military duty before World War I, Memed (Bulent Inal) returns to his village in Antep (a city in the southern Turkey) as tired and defeated. Antep is under invasion by the British army and gangs wander around, taking advantage of the situation.
Although Memed's father wants him to administer the tribe and fight together with young people, Memed doesn't want to fight anymore: he wants to be the shepherd Memed, not the hero. He refuses to carry guns and struggles to avoid returning to a life of violence, but ensuing events don't let him realize this decision. Due to injustice and cruelty, Memed takes the gun again and acquires the heroic name Karayilan (Black Snake).

In Black Snake (Karayilan) tv series story, you will explore a heroic struggle of ordinary people against their destiny while discovering the last days of Ottoman Empire. Also in this story, you will see a profound love which blossoms in the middle of the chaos. Will Memed manage to become successful in his resistance against injustice and cruelty? Will Memed become a hero at the end? Will the love between Memed and Elvan (Begum Birgoren) stand for the obstacles?
Karayilan Tv Series Cast
Bulent Inal as Karayilan (Mehmet)
Begum Birgoren as Elvan
Polat Bilgin as Margos
Serap Aksoy as Belkis
Ilker Aksum as Binbasi Laros
Engin Akyurek as Nizipli Halim
Nergis Ozturk as Sona
Avni Yalcin as Behram Cavus
Cem Bender as Doktor Osman
Gokhan Bekletenler as Selo
Sahin Irmak as Siro
Binnur Kaya as Emine
Ozan Sahin as Haberci
Mark Levitas as Kolonel San Mari
Erkan Bektas as Sahin Bey
Main Characters' Other Popular Dramas
Bulent Unal: Under the Linden Trees (Ihlamurlar Altinda), Bullet Wound (Kursun Yarasi), Never Ending Song – Endless Song (Bitmeyen Sarki)
Begum Birgoren: Broken Wings (Kirik Kanatlar)
Engin Akyurek: Foreign Groom (Yabanci Damat), Beyond the Clouds (Bir Bulut Olsam), What is the Fault of Fatmagul? (Fatmagulun Sucu Ne)
External Links
Imdb: http://www.imdb.com/title/tt1183924/
You Might Also Like
Bullet Wound (Kursun Yarasi)
Broken Wings (Kirik Kanatlar)