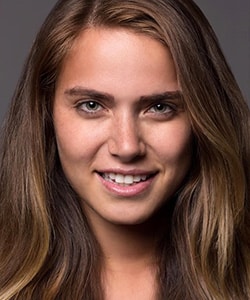 Profile
Name: Ceyda Ates
Birthdate: October 10, 1988
Birthplace: Ankara, Turkey
Height: 161 cm
Eye Color: Green
Hair Color: Blonde
Education: Baris Manco Culture Center – Theatre Training (Baris Manco Kultur Merkezi – tiyatro egitimi)
Talent Agency:
Spouse: Bugra Toplusoy (m. 2018-present)
Biography: Ceyda Ates Toplusoy was born in 14 October 1988 in Istanbul. When she was 5 years old, she became a child beauty queen and then started her acting career on television. Ceyda Ates Toplusoy took acting lessons at Baris Manco Culture Center and made her debut in 1995 with her role as Asli in Turkish series Taxi Station (Cicek Taksi). Other than acting, Ceyda Ates Toplusoy are interested in ballet dancing, piano, horse back riding, and drawing.
Ceyda Ates Tv Series / Movies
1995 – Flower Taxi Station (Cicek Taksi) (as Asli)
1998 – Erguvan Yillari
1999 – Hayat Baglari (as Sude)
2000 – Little Ibo (Kucuk Ibo) (as Elmas)
2000 – Step Father (Uvey Baba)
2001 – Sweet Life (Tatli Hayat) (as Elena Gul)
2001 – What a Relief (Dunya Varmis) (as Yeliz)
2002 – Half of Apple (Yarim Elma) (as Beren)
2002 – Bulutbey
2003 – Gurbet Kadini (as Merve)
2003 – Life Sciences (Hayat Bilgisi) (as Sude)
2004 – Gizli Dunyalar
2004 – Cennet Mahallesi (as Dicle)
2004 – Big Meeting (Buyuk Bulusma)
2005 – Fifth Dimension (Besinci Boyut) (as Gokce)
2005 – The Game of Love (Ask Oyunu) (as Feride)
2006 – Gulcu Baba (Movie)
2006 – Karagumruk is Burning (Karagumruk Yaniyor) (as Petek)
2006 – Ahh Istanbul
2007 – Crazy Classroom (Cilgin Dersane) (as Esra) (Movie)
2007 – Fake World (Yalan Dunya) (as Yeliz)
2008 – Life is Beautiful (Hayat Guzeldir) (as Pinar Bahtiyar)
2008 – Years at Full Speed (Doludizgin Yillar) (as Pelin)
2009 – Daydreaming (Kavak Yelleri) (as Leyla)
2009 – Farewell Rumelia (Elveda Rumeli) (as Pembe)
2010 – Love in the Air (Yer Gok Ask) (as Betul)
2011 – The Girl Named Feriha (Adini Feriha Koydum) (as Hande Gezgin)
2012 – One of the Houses (Evlerden Biri) (as Nursen)
2012 – Emir's Way (Emir'in Yolu) (as Hande Gezgin)
2013 – Gone With the Dream (Ruya Gibi Gecti) (as Lale) (Movie)
2013 – Don't Let It End Like That (Boyle Bitmesin) (as Derya)
2013 – Bir Yastikta
2014 – Bogey (Gulyabani) (as Duygu) (Movie)
2014 – Ciragan Raid (Ciragan Baskini) (as Meryem) (Movie)
2014 – Revenge of the Snakes (Yilanlarin Ocu) (as Zahide)
2015 – Gamsiz Hayat (as Ela)
2016 – That Is My Life (O Hayat Benim) (as Cemre)
2019 – The Boy (Cocuk) (as Sule Karasu)
Social
Instagram: https://www.instagram.com/ceydatesofficial/
Twitter: https://twitter.com/ceceydates
Facebook:
E-Mail: [email protected]