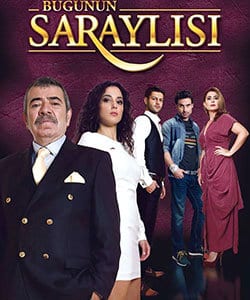 Details
Original Title: Bugunun Saraylisi
English Title: Today's Palace Owner
Also Known As: The Noble Of Today
Genre: Romance, Drama
Episodes: 36
Broadcast Network: ATV
Broadcast Period: November 10, 2013 – October 11, 2014
Production Company: Avsar Film
Director: Kudret Sabanci
Screen Writer: Erkan Birgoren, Betul Yagsagan
Synopsis
The story is based on the work of foremost Turkish author Refik Halit Karay .
Mr. Ata (Selcuk Yontem) lives in a beautiful shore house with his wife and two children. He comes from a well-known family having a big reputation among high class people. Mr. Ata works as a jewelry designer and his designs are appreciated by many people. Although Mr. Ata has an incredible talent, he is not successful in commercial terms. He works at a small atelier with a few craftsmen and does not want to use his talent for profit purposes.
Even though Mr. Ata has some financial problems, he does not want to sell his brand name. For this reason, he has no choice but to sell his beautiful shore house. However, the decision for selling the shore house is not easy at all. This is because, neither Mr. Ata's wife nor his children want to leave the life they used to. According to them, moving into an apartment will decrease their social status.
Eventually, Mr. Ata sells his shore house and finds an apartment. However, he has no clue whom he has sold the house. After he and his family move into their new apartment, they discover that the owner of the shore house is someone who has known Mr. Ata from the past. The new owner buys the shore house in order to take a revenge from Mr. Ata. In the past, both Mr. Ata and the new owner, Yasar, loved the same girl who was working as a servant in that shore house. That girl also loved Mr. Ata but ended up marrying Yasar even though she was pregnant and she was carrying Mr. Ata's baby. Without knowing all these things, Mr. Ata believed that his love left him for another man and for this reason, he got married to another woman and tried to start a new life.
When Yasar loses his wife, he wants to get revenge from Mr. Ata. Becoming a new owner of the shore house gives him that opportunity. Yasar and his beautiful girl Aysen (Cansu Tosun) come to Istanbul and start over their new life. Aysen is a naive and pure girl who only knows Istanbul from tv series. Her innocence changes everyone around her, including her new neighbors Savas (Serhat Teoman) and Fatih (Ali Ersan Duru).
In The Noble of Today tv series story, you will see a modern Cinderalla story. Will Aysen be accustomed to her new life in Istanbul? Will Aysen keep her innocence after becoming a new owner of the shore house?
The Noble Of Today Cast
Selcuk Yontem as Ata
Cansu Tosun as Aysen
Ali Ersan Duru as Fatih
Serhat Teoman  as Savas
Nazan Kesal as Uftade
Gozde Cigaci as Sureyya
The Noble Of Today Trailer
The Noble Of Today Tv Series Trailer
External Links
Imdb: http://www.imdb.com/title/tt3707700/
Official Site: http://www.atv.com.tr/webtv/bugunun-saraylisi/bolum
You Might Also Like
Silver (Gumus)
Little Lady (Kucuk Hanimefendi)