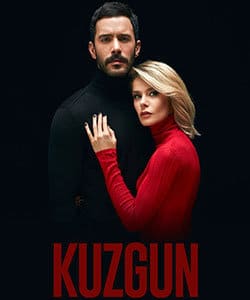 Details
Original Title:
Kuzgun
English Title:
Kuzgun
Also Known As:
Genre:
Drama
,
Crime
,
Romance
Episodes:
16+
Broadcast Network:
Star Tv
Broadcast Period:
February 13, 2019 –
Production Company:
Ay Yapim
Director:
Bahadir Ince
Screen Writer:
Burcu Gorgun Toptas
,
Ozlem Yilmaz
Synopsis
Kuzgun is the 8-year old child whose father is a trustworthy cop. He has a modest and happy life together with his parents, brother, and sister. But, his life turns upside down when his father is betrayed by his colleague and kicked off the force in a drug scandal.
Kuzgun's father does not accept the bribe offered by drug lord whereas his best friend Rifat (Levent Ulgen) accepts the offer and betrays his colleague though entrapping him. After then, Rifat becomes the drug dealer's right-hand man while Kuzgun's father is put into prison.
Kuzgun's happy life comes to end. His family is separated and he is taken away from his family by the thugs who are looking for the evidence concerning the drug lord. Kuzgun manages to escape from the thugs but cannot find his mother at the home. He realizes that his mother and his siblings have abandoned him and left the house. Now, he has to survive on the streets and fend for himself.
20 years later, Kuzgun (Baris Arduc) becomes an adult who is willing to take his revenge. An ordinary man generally prefers to forget all the pain during his childhood. However, Kuzgun prefers not to forget but to transform himself into the perfect sword of vengeance.

Kuzgun makes a perfect plan to infiltrate the gang of Rifat and after then, to become the most powerful man in Istanbul. In order to reach his goal, he takes advange of Rifat's daughter Dila (Burcu Biricik). Dila is a beautiful and young woman who lives in London and works as a lawyer. She does not approve the work done by her father Rifat and her brother Ali (Aytek Sayan). She knows that all the wealth of her family comes from illegal activities. Dila always feels regret after Kuzgun disappears 20 years ago and she never forgives herself for betraying her childhood love Kuzgun.
Kuzgun plans to bump into Dila upon her visit to Turkey. He becomes her bodyguard without disclosing his true identity and saves her life. After then, he wins her trust and takes her on his side. With the help of Dila, Kuzgun starts to work with the gang Rifat.
Different from other revenge stories, Kuzgun discloses his true identity at the first meeting. He clearly mentions that he has endured so much pain over 20 years, and now he wants back his life and his father's share in the drug business.
Kuzgun tv series story tells how the forces of love and revenge bring two young persons together after 20 years. Will Kuzgun forget about his past and manage to live in peace? Will Kuzgun abandon his revenge for the sake of Dila? Will Dila and Kuzgun stand for their love?
Kuzgun Tv Series Cast
Baris Arduc as Kuzgun
Burcu Biricik as Dila
Settar Tanriogen as Dervis
Hatice Aslan as Meryem
Levent Ulgen as Rifat
Aytek Sayan as Ali
Caner Sahin as Kartal
Ahsen Eroglu as Kumru
Erdal Kucukkomurcu as Seref
Ipek Erdem as Sermin
Derya Beserler as Seda
External Links
Official Site: https://www.startv.com.tr/dizi/kuzgun
English Wikipedia:
Imdb:
You Might Also Like
For My Son (Poyraz Karayel)
The Circle (Halka)
Kuzgun Tv Series Gallery
Kuzgun Turkish Drama Relationship Chart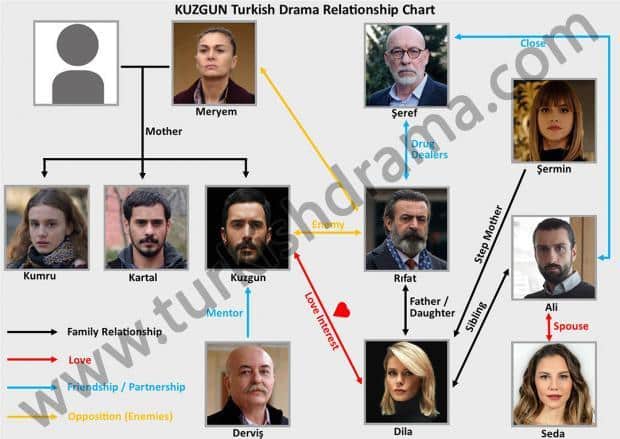 Series Music – Minnet Eylemem

Kuzgun Tv Series Music - Minnet Eylemem
Trailer 1 (with English Subtitles)
Kuzgun Turkish Drama Trailer (Eng Sub)
Trailer 2 (Eng Sub)
Kuzgun Tv Series Trailer 2 (Eng Sub)