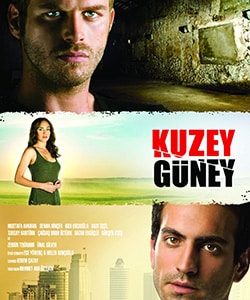 Details
Original Title: Kuzey Guney
English Title: North South
Also Known As:
Genre: Action, Drama, Romance
Episodes: 80
Broadcast Network: Kanal D
Broadcast Period: September 7, 2011 – June 26, 2013
Production Company: Ay Yapim
Director: Mehmet Ada Oztekin, Hilal Saral
Screen Writer: Melek Gencoglu, Ece Yorenc
Synopsis
Kuzey (Kivanc Tatlitug) and Guney (Bugra Gulsoy) are two brothers who have opposite characters. Kuzey is rebellious, fearless, and impatient. He finds himself in trouble most of the time because he can't control his anger. On the other hand, Guney is hardworking, responsible, calm, and patient. They are so different from each other just like north (which means Kuzey in Turkish) and south (which means Guney in Turkish). Even though their characters are separated, these two brothers are closely bound to each other. A new page opens in the brothers' lives when Cemre (Oyku Karayel) moves to their neighborhood.
Kuzey, Guney and Cemre become close friends and spend most of their time together. Their fates come to an intersection when both Kuzey and Guney develop a deep love for Cemre.
The day before the university entrance exam, Kuzey decides to reveal his feelings. However, he is devastated when he learns that Guney and Cemre are going out already.

That night, Kuzey goes outside and gets drunk in order to forget everything. Unaware of his brother's feelings, Guney blames Kuzey for causing a trouble again and wants to bring him away. However, on the way, he gets into a car accident and kills someone. This car accident turns everything upside down. Kuzey confesses to his brother's crime and ends up in jail while Guney is left alone in his remorse of letting Kuzey confess to his crime.
After four years in prison, Kuzey regains his freedom again. However, he understands now that he will not be able to regain the life he once had. He realizes that his only dream of becoming a soldier has been taken away from him. He also realizes that after those four years he is the only one that has lost everything.
Therefore, Kuzey blames his older brother, Guney, for taking everything good in his life away from him. He blames Guney for destroying his future, for getting their mother's love, and for stealing the woman he loves. He wants to punish those who hurt him and decides to take his revenge.
In kuzey guney tv series story, you will explore a story of two brothers who have opposite characters. Will Kuzey forget about his past and forgive everybody in his life?  Will Kuzey manage to get his life back on track? What will happen when Kuzey's deep love for Cemre is revealed?
Kuzey Guney Tv Series Cast
Kivanc Tatlitug as Kuzey Tekinoglu
Bugra Gulsoy as Guney Tekinoglu
Oyku Karayel as Cemre Cayak
Bade Iscil as Banu Sinaner
Riza Kocaoglu as Ali Guntan
Hazar Erguclu as Simay Canas
Merve Bolugur as Zeynep Cicek
Serhat Teoman as Burak Catalcalı
Gozde Cigaci as Demet
Mustafa Avkiran as Sami Tekinoglu
Semra Dincer as Handan Tekinoglu
Zerrin Tekindor as Gulten Cayak
Unal Silver as Atilla Sinaner
Cagdas Onur Ozturk as Baris Hakmen
Goksen Ates as Venus Tezerel
Hale Soygazi as Ebru Sinaner
Ozan Akbaba as Sumer Tezkan
Kaan Tasaner as Seref
Turgay Kanturk as Ferhat Nezih Coskun
External Links
Official Site: https://www.ayyapim.com/en-us/kuzey-guney
English Wikipedia:
Imdb:
You Might Also Like
Forbidden Love (Ask-i Memnu)
Ezel
Kuzey Guney Tv Series Gallery
Kuzey Guney Tv Series Trailer (with English Subtitle)
Kuzey Guney Tv Series Trailer (Eng Sub)