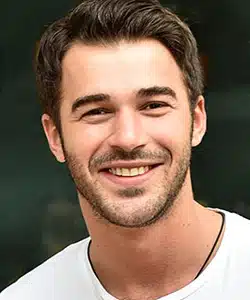 Profile
Name: Yusuf Cim
Birthdate: September 26, 1991
Birthplace: Istanbul, Turkey
Height: 188 cm
Eye Color: Brown
Hair Color: Brown
Education: Istanbul Arel University Radio and Theatre (Istanbul Arel Universitesi Radyo ve Televizyon Bolumu)
Talent Agency: Icon Talent Management
Spouse:
Biography: Yusuf Cim was born on September 26, 1991 in the Fatih district of Istanbul. He is originally from Giresun. He is the youngest member of a family of 3 children. Yusuf Cim studied at Beyoglu Anatolian Technical and Industrial Vocational High School Computer Technology. After then, he took acting lessons at the Academy 35 and a Half Art House (Akademi 35 Bucuk Sanat Evi). He appeared in many fashion shows before and after the 2011 Best Model of Turkey. He has appeared on the catwalk for fashion shows such as Fashion Week, Gunsel Ulku, Forever Young and well-known brands such as Damat, Kigili, Tween, Ralp, Lauren, Hatemoglu, Polo, Mango, Marks & Spencer. Yusuf Cim's music career began in August 2013 with the Olsun Bi Kere EP music album. Yusuf Cim started his acting career with his role of "Baskomiser Tek Tabanca Mustafa" in the turkish series Ezra.

Yusuf Cim Tv Series / Movies
2014 – Ezra (as Mustafa)
2015 – Strawberry Smell (Cilek Kokusu) (as Burak Mazharoglu)
2016 – Ladyville (Hanim Koylu) (as Ferit Sabit)
2017 – Glass Mask (Icimdeki Firtina) (as Emre Bademli)
2017 – Seven Ne Yapmaz (as Ozan Ekinsoy)
2018 – Wealth (Servet) (as Can Yigit)
2019 – Sing a Love Song for Me (Bana Bir Ask Sarkisi Soyle) (as Emre Akin) (Movie)
2019 – Hababam Sinifi Yeniden (as Yakisikli) (Movie)
2020 – Kazara Ask (as Emir Mete)
2020 – Happily Ever After (Iyi Gunde Kotu Gunde) (as Ediz)
2020 – 2021 Scorpion (Akrep) (as Aras Saglam)
2021 – Hababam Sinifi Yaz Oyunlari (as Yakisikli) (Movie)
2022 – Deception (Aldatmak) (as Ozan Yenersoy)
2022 – Hayaller ve Hayatlar (as Sergen Kara)
2022 – Sonsuza Dek Nedime
Awards
2014 – 20. MGD Golden Objective Awards (20. MGD Altin Objektif Odulleri) – Best Breakthrough Singer (En Iyi Cikis Yapan Sanatci)
Social
Instagram: Official Instagram Account
Twitter: Official Twitter Account
Facebook:
E-Mail:
Yusuf Cim – Olsun Bi Kere

Yusuf Çim - Olsun Bi Kere ( Official Video )