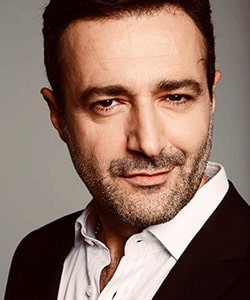 Profile
Name: Firat Dogruloglu
Birthdate: July 6, 1974
Birthplace: Hatay, Turkey
Height: 190 cm
Eye Color: Brown
Hair Color: Black
Education: Istanbul Bilgi University Economics (Istanbul Bilgi Universitesi Iktisat Bolumu)
Talent Agency: Gaye Sokmen Cast Agency
Spouse:
Biography: Firat Dogruloglu was born in 6 July 1974 in Hatay. He has 4 siblings. His father is a worker retiree and his mother is a housewife. In National University Exam, Firat Dogruloglu won Istanbul University Physics but then decided that this study are was not appropriate for him. After then, he won Istanbul Bilgi University Economics with full scholarship. Firat Dogruoglu started to be interested in theatre while he was going to high school. He took part in various theatres such as Tiyatro Cisenti and Bogazici University Graduates' Association. He also took part in various commercial. Through these commercials, Firat Dogruloglu met famous producer Tomris Giritlioglu.

Firat Dogruloglu Tv Series / Movies
1994 – Sehnaz Tango
1995 – Our Family (Bizim Aile)
2002 – Half of Apple (Yarim Elma) (as Kuzey)
2003 – Twilight (Alacakaranlik) (as Mithat)
2004 – Tam Pansiyon (as Carli)
2004 – Seytan Sofrasi (as Omer)
2005 – Kizma Birader (as Mazhar)
2005 – Ilk Goz Agrisi (as Feridun)
2005 – Kupeler (as Harun) (Short Movie)
2006 – 1001 Nights (Binbir Gece)
2006 – Akumulatorlu Radyo (as Doctor Riza) (Movie)
2006 – Rookie Witch (Acemi Cadi) (as Orhan)
2006 – My Baby (Bebegim) (as Sedat)
2007 – Nazli Yarim (as Mehmet)
2007 – Baby Doll (Bez Bebek) (as Firat)
2008 – Dear Family (Canim Ailem) (as Bahadir)
2008 – Hastasiyiz (as Kazim) (Movie)
2009 – Haneler (as Firat)
2010 – Vay Arkadas (as Soner) (Movie)
2012 – Bir Ferhat ile Sirin Hikayesi
2012 – The Mountain (Dag) (as Yasar Demir) (Movie)
2013 – 2014 Galip Dervis (as Murat Terzi)
2014 – 2016 Filinta (as Hayalet / El Sebbiha)
2017 – Wolf (Börü) (as Behcet Orbay)
2018 – Wolf (Börü) (as Behcet Orbay) (Movie)
2020 – Ya Istiklal Ya Olum (as Adnan Adivar)
2021 – My Home My Destiny (Dogdugun Ev Kaderindir) (as Tarik)
2021 – Olagan Supheliler (as Mustafa)
2021 – Destiny (Elkizi) (as Selcuk)
2021 – Dalgalar ve Izler (Movie)
2022 – Boru 2039 (as Behcet Orbay)
Awards
Theatre Plays
Yaz Donumu Gecesi Ruyasi
Ayakta Durmak Istiyorum
Filinta
Atesteki Kagitlar
Anda
Hastasiyiz
Deniz Altinda Alti Tahammulfersa
Senlikli Limonata
Tutsana Ellerimi
Social
Instagram: Official Instagram Account
Twitter:
Facebook:
E-Mail:
Trivia
Body Type:
Skills:
Zodiac Sign: Cancer
Blood Type:
Hobbies: Riding, basketball, singing, dancing, billiard
Weight: 80 kg
Languages: Turkish (mother tongue), English (Fluently)
Firat Dogruloglu Gallery