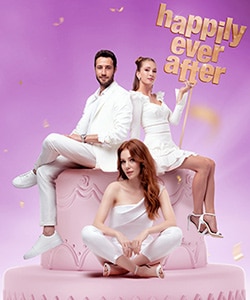 Details
Original Title: Iyi Gunde Kotu Gunde
English Title: Happily Ever After
Also Known As: In Good Times and In Bad, Good Day Bad Day
Genre: Romance, Comedy
Episodes: 6
Broadcast Network: Star Tv
Broadcast Period: September 12, 2020 – October 17, 2020
Production Company: O3 Medya
Director: Metin Balekoglu
Screen Writer: Pelin Karamehmetoglu, Aksel Bonfil
Filming Locations: Istanbul, Turkey
Synopsis
Leyla (Elcin Sangu) is a beautiful girl who is dumped at her wedding day. While she is dreaming to get married to her lovely boyfriend Sarp (Ozan Dolunay), she is left alone without any explanation.
Leyla does not understand why his boyfriend whom she has known from the university has left without saying a word. She cannot accept this situation and assumes that there must a reasonable explanation.
After her life turns upside down at her wedding day, Leyla finds it so hard to get back into a normal life. Throughout these hard times, she gets a support from her mother Meral (Derya Alabora), her father Halil (Hakan Salinmis) and her close friend Seda (Deniz Isin).

With the suggestion of her friend, Leyla starts to work as a wedding planner and does her best to organize beautiful weddings. She does not like bad surprises in the life and for this reason, she does her best to prevent a bad thing happen in the weddings that she organizes.
Leyla dedicates all her time to her work and decides to make other couples' dreams come true in order to forget a tragedy in her life.
Even though Leyla broke up with Sarp 5 years ago, she still feels that she is not ready for a new relationship and refuses to date with anyone. Even though she states that she has forgotten everything in the past, she still loves Sarp and hopes that he has a reasonable explanation for leaving her behind.
Therefore, Leyla does her best to get rid of a new relationship when her mother or her friend wants to arrange a boyfriend for her.
After 5 years, Leyla becomes a very successful wedding planner. She becomes the most important employee of her boss Aslihan (Senay Gurler) known to be a "queen" in the high society.
Eventually, Leyla gets a very good offer from her boss. She would get promoted as a manager at their company and she would be responsible for organizing the wedding of Aslihan's daughter Melisa (Yasemin Allen).
Aslihan wants Leyla to organize her daughter's wedding in a perfect way and make it the "wedding of the year".
Leyla does not know that she is supposed to organize her ex-boyfriend's wedding. She has never seen Sarp since their wedding day. Sarp has been living in England for five years and just returned to Turkey in order to get married to his fiancée Melisa.
Out of pure coincidence, after 5 years, Leyla and Sarp bumps into each other at the university alumni day. Leyla is startled to see him in front of herself. She feels so uncomfortable after learning that Sarp is the new CEO of the hotel where she works.
This time, Leyla decides to have an explanation from him and asks him directly. She wonders what happened 5 years ago, why he left her without saying a word, and whether he was threatened to leave her or not.
However, Sarp refuses to make an explanation and tells that his explanation would not change anything. He states that it is too late now.
Sarp does not want to reveal the truth about the past. He prefers to be hated by Leyla rather than to be forgiven. At the same time, he does not want to get through the same thing again and does not want to leave another woman on the way towards marriage.
Hence, Sarp does not make an explanation and thinks that he would never see Leyla again.
However, the next day Leyla and Sarp come across to each other again. Sarp is the prospective groom of the "wedding of the year" which would be organized by Leyla. The two young people are shocked upon learning this fact but they try their best not to let other people understand that they have known each other.
Leyla has to make a big decision that would totally affect her life: she would keep silent, continue to organize the "wedding of the year", and work at the same hotel together with Sarp or she would end all these things immediately.
Happily ever after (iyi gunde kotu gunde) tv series story is about Leyla who is supposed to organize the wedding of her ex-boyfriend Sarp who dumped her at their wedding day 5 years ago. Will Leyla decide that her career is more important than her feelings? Will Leyla manage to forgive Sarp and start to live in peace? Will Sarp eventually make an explanation why he left everything behind 5 years ago? Will Sarp get married to Melisa or leave her on the way towards the marriage?
Happily Ever After (Iyi Gunde Kotu Gunde) Tv Series Cast
External Links
Official Site: https://www.startv.com.tr
English Wikipedia:
Imdb:
Social
Instagram: https://www.instagram.com
Twitter:
Facebook:
Youtube Channel: https://www.youtube.com
You Might Also Like
Love for Rent (Kiralik Ask)
Happily Ever After (Iyi Gunde Kotu Gunde) Turkish Drama Relationship Chart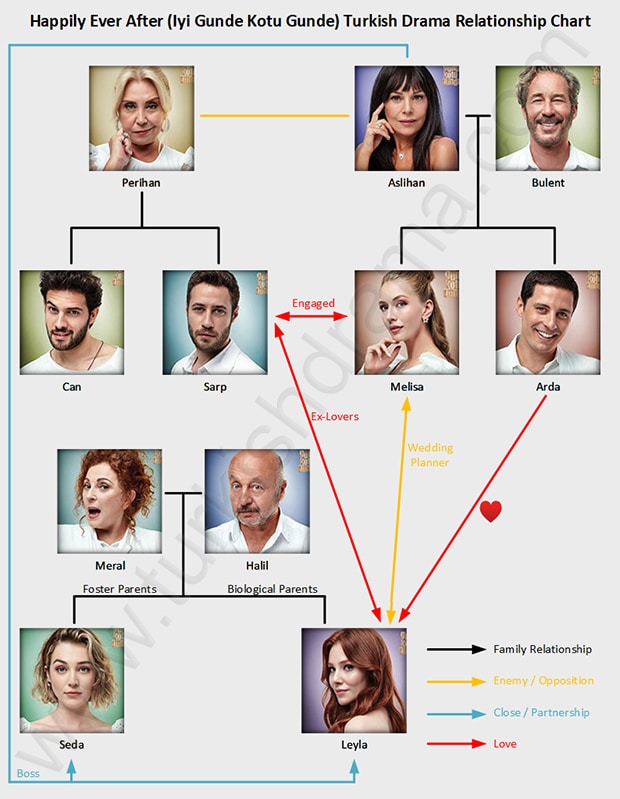 Happily Ever After (Iyi Gunde Kotu Gunde) Tv Series Trailer (with English Subtitle)
İyi Günde Kötü Günde | Teaser (12 Eylül Cumartesi Başlıyor!)
Happily Ever After Turkish Series Trailer – 1 (with English Subtitle)
İyi Günde Kötü Günde | Teaser 2 (12 Eylül Cumartesi Başlıyor!)
Iyi Gunde Kotu Gunde Turkish Drama Trailer – 2 (with English Subtitle)
İyi Günde Kötü Günde | Teaser 3 (12 Eylül Cumartesi Başlıyor!)