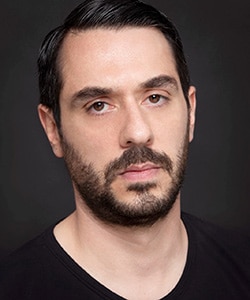 Profile
Name: Atif Emir Benderlioglu
Birthdate: October 28, 1979
Birthplace: Ankara, Turkey
Height: 183 cm
Eye Color: Brown
Hair Color: Black
Education: Hacettepe University Fine Arts Faculty – Graphics (Hacettepe Universitesi Guzel Sanatlar Fakultesi Grafik Bolumu)
Talent Agency: Abdullah Bulut Management
Spouse: Ceren Sekerci (m. 6 July 2010-present)
Children: Nur Benderlioglu
Biography: Emir Benderlioglu was born in 28 October 1979 in Ankara. His full name is Atif Emir Benderlioglu. He first studied sculpture at Hacettepe University but then switched to graphics area. Emir Benderoglu started his career as an advertising coordinator at Turkish Radio and Television (TRT). During that time, he worked together with director Alper Caglar and started to take part his movies. After then, he joined to Harika Uygur casting agency and moved to Istanbul. Emir Benderlioglu opened a cafe at Beyoglu neighborhood (named Cafe Benderli) together with his close friends Isin Karaca, Ferdi Kurtuldu, and Eda Erturk. Emir Benderlioglu got married to an actress Ceren Sekerci on 6 July 2010 and has a daughter named Nur.
Emir Benderlioglu Tv Series / Movies
2004 – 4 Hours (4 Saat) (as Ferit) (Short Movie)
2005 – Kabakurgu (as Emir) (Short Movie)
2006 – Chameleon (Bukalemun) (as Ozan) (Short Movie)
2006 – Trains of Adem (Adem'in Trenleri) (as Bekir) (Movie)
2007 – 2010 Daydreaming (Kavak Yelleri) (as Burak Elibol)
2007 – Silent Storm (Sessiz Firtina) (as Ibrahim)
2007 – Camgoz – Kan ve Vanilya (as Batu) (Short Movie)
2008 – Detective Brothers (Dedektif Biraderler) (as Savas Deger)
2009 – Break Up (Ayrilik) (as Eytan)
2009 – Deli Dumrul Kurtlar Kuslar Aleminde (as Dumrul) (Movie)
2010 – Sharp Knife (Keskin Bicak) (as Cetin Erdogan)
2011 – 2012 Love is in the Air (Yer Gok Ask) (as Yilmaz)
2011 – Hop Dedik: Deli Dumrul (as Dumrul) (Movie)
2012 – Don't Last Like That (Boyle Bitmesin) (as Abdullah)
2013 – Galip Dervis (as Suat)
2013 – Ottoman Slap (Osmanli Tokadi) (as Ates-Vlad Tepes and Savas)
2013 – Fake World (Yalan Dunya)
2014 – Antidote (Panzehir) (as Ferit) (Movie)
2014 – Flower (Cicek) (as Rifat)
2015 – Good Luck (Bol Sans) (Movie)
2015 – Married and Angry (Evli ve Ofkeli) (as Ahmet)
2016 – Brave Heart (Cesur Yurek) (as Serdar)
2016 – Mountain 2 (Dag 2) (as Batur Altinbilek) (Movie)
2016 – 2017 Back Streets (Arka Sokaklar) (as Sezgin Onuralp)
2016 – Abducter (Kizkaciran) (as Ahmet) (Movie)
2016 – Canakkale The Century Old Seal (Canakkale Yuzyillik Muhur) (as Huseyin Tegmen)
2017 – Racon Doesn't Work at Love (Aska Racon Sokmez) (as Korkut) (Movie)
2017 – Phi (Fi) (as Ali)
2018 – Wolf (Börü) (as Turan Kara)
2018 – 4N1K Ilk Ask (as Tekin Tekelioglu)
2018 – Wolf (Börü) (as Turan Kara) (Movie)
2019 – Bandits (Eskiya Dunyaya Hukumdar Olmaz) (as Behzat Facali)
2019 – Aman Reis Duymasin (as Behzat Facali) (Movie)
2019 – Unconscious Love (Suursuz Ask) (Movie)
Awards
Social
Instagram: https://www.instagram.com/emirbenderlioglu/
Twitter:
Facebook:
E-Mail:
Twitch: https://www.twitch.tv/emirbenderlioglu/