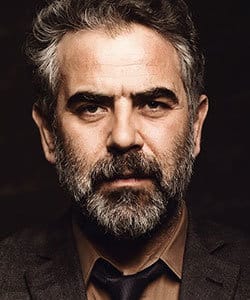 Profile
Name: Yurdaer Okur
Birthdate: October 29, 1974
Birthplace: Rize, Turkey
Height: 174 cm
Eye Color: Blue
Hair Color: Brown
Education: Hacettepe University State Conservatory Theatre (Hacettepe Universitesi Devlet Konservatuari Tiyatro)
Talent Agency: Icon Talent Management
Spouse: Dilara Yalcin Okur (m. 2011 – present)
Children: Suzi Nar Okur
Biography: Yurdaer Okur was born on 29 October 1974 in Rize. He studied at Mediterranean University (Akdeniz Universites) Tourism Management for 3 years but understood that he did not want a job related to tourism. He won Hacettepe University State Conservatory in 1994 and started to study theatre. After then, he did his master's degree at Mimar Sinan University State Conservatory. Yurdaer Okur took part in various theatre plays such as Yalinayak Sokrates, 'Leenane'in Guzellik Kralicesi', 'Ben Ruhi Bey Nasilim', and 'Benerci Kendini Nicin Oldurdu' at Istanbul State Theatre. In 2002 he started to work at Diyarbakir State Theatre and took part in theatre plays such as 'Hortlak', 'Dunyanin Ortasinda Bir Yer' and 'Yasar Ne Yasar Ne Yasamaz'. Apart from theatre, Yurdaer Okur also directed a children theatre play, gave acting lessons and took part in various TV projects.

Yurdaer Okur Tv Series / Movies
1999 – Mrs. Ferhunde (Ferhunde Hanimlar)
2000 – Stranger in the House (Evdeki Yabanci) (as Mehmet)
2000 – Sorry for Leyla (Uzgunum Leyla)
2001 – Sweet Life (Tatli Hayat)
2001 – Cifte Bela
2002 – Children of Secret (Sir Cocuklari) (as Ertan) (Movie)
2002 – Asli ile Kerem
2002 – Nanny (Dadi)
2005 – Game of Love (Ask Oyunu) (as Dr. Hakan)
2005 – Belali Baldiz (as Demir)
2005 – Chemins d'O (Gunesin Dogusu) (as Gunes) (Short Movie)
2005 – Gen (as Doctor Ragip) (Movie)
2005 – Kisik Ateste 15 Dakika (Movie)
2006 – 2008 Bridge (Kopru) (as Tekin)
2007 – House of Horror: Wife of Wednesday (Kabuslar Evi: Carsamba Karisi) (as Erdal) (Movie)
2007 – Valley of Wolves Ambush (Kurtlar Vadisi Pusu)
2010 – Day of Sword (Kilic Gunu) (as Mustafa Kiziroglu)
2011 – 2012 Sakarya Firat (as Kerkuklu Suleyman)
2011 – Maze (Labirent) (as Ismet) (Movie)
2011 – Turkan (as Emin) (Movie)
2012 – 2015 Karadayi (as Turgut Akin)
2014 – Code Name Reaction (Kod Adi Reaksiyon) (as Gurkan)
2015 – 2016 Wedlock (Yeter) (as Yekta Harmanli)
2016 – Saruhan (as Kadi Huseyin) (Movie)
2017 – Resurrection Karatay (Direnis Karatay) (as Baycu Noyan) (Movie)
2018 – Alija (as As Aliya Izzetbegovic)
2018 – Discovery (Kesif) (as Bekir) (Movie)
2018 – The Protector (Hakan: Muhafiz) (as Kemal Erman)
2019 – Nobet (as Baris Kalender)
2019 – Sevgili Gecmis (as Tekin Malik)
2019 – 7. Kogustaki Mucize (as Yarbay Aydin) (Movie)
2019 – Bilmemek (as Sinan) (Movie)
2019 – Korler Pencereden Bakar mi? (Short Movie)
2020 – Kurulus Osman (as Balgay)
2020 – Son Kale Hacibe (as Ahmet Pasa) (Movie)
2020 – 2021 Kefaret (as Ahmet Cinarli)
2021 – 2022 Alparslan: The Great Seljuks (Alparslan: Buyuk Selcuklu) (as Emir Bozan / Tugrul Bozan)
2022 – Hakim (as Azem Demirkan)
2022 – Demir Kadin: Neslican (Movie)
Theatre Plays
1999 – Yalinayak Sokrates
1999 – 2000 Leenane'in Guzellik Kralicesi
2000 – Ketcapli Spagetti
2001 – Ben Ruhi Bey Nasilim
2002 – Benerci Kendini Nicin Oldurdu? (as Roy Dranat)
2003 – Dunyanin Ortasinda Bir Yer
2003 – Hortlak
2004 – 2005 Yasar Ne Yasar Ne Yasamaz
2006 – Ay, Ask, Olum
2006 – Bes Yil Gecince
2008 – Yastik Adam (as Michael)
2009 – 2010 Olumu Yasamak
2012 – Babamin Cesetleri
2014 – Kuvayi Milliye – Kurtulus Savasi Destani (as Ahmet)
2017 – Ran
Social
Instagram: Official Instagram Account
Twitter:
Facebook:
E-Mail:
Yurdaer Okur Gallery