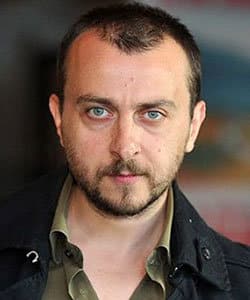 Profile
Name: Ali Atay
Birthdate: April 20, 1976
Birthplace: Rize, Turkey
Height: 176 cm
Eye Color: Blue
Hair Color: Black
Education: Mimar Sinan Univercity Theatre School
Spouse: Ebru Cansiz (m. 2008–2013), Hazal Kaya (m. 2019-present)
Children: Fikret Ali Atay
Biography: Ali Atay was born in 20 April 1976 in Rize. He is a founder of a theatre community called Krek that was founded in 1999. He is a successful actor but also known as director and screen writer. He is a director and screen writer of the movie named Limonade (Limonata) in 2014; the movie named Mortal World (Olumlu Dunya) in 2018; and the movie named Cinayet Susu in 2019. Ali Atay became very popular with his role as Mecnun in popular Turkish series Leyla and Mecnun.
Ali Atay Tv Series / Movies
1998 – 2001 Second Spring (Ikinci Bahar) (as Ersin)
2000 – 7th Number (7 Numara)
2000 – It is Too Late (Artik Cok Gec) (as Kemal) (Movie)
2001 – My Love My Love (Askim Askim)
2003 – My Father Came Out of Hat (Sapkadan Babam Cikti) (as Maksut)
2003 – Sansa Bak
2004 – Swallow (Kirlangic) (as Asik Maglubi) (Movie)
2004 – Under the Plane Tree (Cinaralti) (as Serhan)
2005 – He is a Prisoner Now (O Simdi Mahkum) (as Yigit Ciftgor) (Movie)
2005 – Bag (Canta) (as ilhan) (Short Movie)
2005 – Cesm-i Bulbul (as Veli)
2006 – Cemile (as Demir)
2007 – 2008 Propitious Moment (Esref Saati) (as Sebati)
2007 – My Life Fight (Hayat Kavgam) (as Veysel)
2008 – Valley of Wolves Ambush (Kurtlar Vadisi Pusu) (as Nazif)
2007 – Good Year London (Iyi Seneler – Londra) (as Firuz) (Movie)
2009 – 40 (as Metin) (Movie)
2009 – I Say Don't Do It! (Yapma Diyorum) (as Asik Maglubi)
2010 – Behzat C. (Behzat C. Bir Ankara Polisiyesi) (as Mecnun)
2010 – My Heart Doesn't Concede (Gonul Ferman Dinlemiyor) (as Mayk / Murat)
2010 – Knife Day (Kilic Gunu) (as Cenk Kiziltan)
2010 – Vay My Friend (Vay Arkadas) (as Manik) (Movie)
2011 – 2013 Leyla and Mecnun (Leyla ile Mecnun) (as Mecnun Cinar)
2013 – 2014 I Missed Too (Ben de Ozledim) (as Ali)
2013 – You Lighten the Night (Sen Aydinlatirsin Geceyi) (as Cemal) (Movie)
2015 – The Man That Gets Carried Away (Gaza Gelen Adam) (Movie)
2015 – Be Happy (Mutlu Ol Yeter) (as Can)
2017 – Ayla: The Daughter of War (as Ali) (Movie)
2017 – Innocent (Masum) (as Yusuf)
2018 – Noah Land (Nuh Tepesi) (as Omer) (Movie)
2019 – Turkish Style Ice Cream (Turk Isi Dondurma) (as Mehmet) (Movie)
2021 – Last Summer (Son Yaz) (as Selim Kara)
Awards
2008 – 13rd Sadri Alisik Awards (13. Sadri Alisik Odulleri 2014) – Best Actor in a Supporting Role (Good Year London) – En Iyi Yardimci Erkek Oyuncu (Iyi Seneler Londra)
2011 – Radikal Newspaper Awards (Radikal Gazetesi Odulleri) – Best Actor (Leyla and Mecnun) – Yilin Erkek Oyuncusu (Leyla ile Mecnun)
2012 – Haberturk Awards (Haberturk Odulleri) – Best Actor in Comedy Tv Series (Leyla and Mecnun) – Komedi Dizisi En Iyi Erkek Oyuncu (Leyla ile Mecnun)
2014 – 19th Sadri Alisik Awards (19. Sadri Alisik Odulleri 2014) – Ayhan Isik Special Prize (You Lighten the Night) – Ayhan Isik Ozel Odulu (Sen Aydinlatirsin Geceyi)
2014 – 14th Bilkent University Awards (14. Bilkent Universitesi Odulleri) – Best Actor in Cinema (You Lighten the Night) – En Iyi Erkek Sinema Oyuncusu (Sen Aydinlatirsin Geceyi)
2018 – 1st International Artemis Izmir Film Festival (1. Uluslararasi Artemis Izmir Film Festivali) – Best Actor in Supporting Role (Ayla: The Daughter of War) – En Iyi Yardimci Erkek Oyuncu (Ayla)
2019 – Hacettepe University 2nd Chrystal Deer Awards (Hacettepe Universitesi 2.Kristal Geyik Odulleri) – Best Actor in Cinema (Turkish Style Ice Cream) – En Iyi Erkek Sinema Oyuncusu (Turk Isi Dondurma)
2019 – Tribeca Film Festival (Tribeca Film Festivali) – Best Actor (Noah Land) – En Iyi Erkek Oyuncu (Nuh Tepesi)
2019 – 7th International Bosphorus Film Festival (7.Uluslararasi Bogazici Film Festivali) – Best Actor (Noah Land) – En Iyi Erkek Oyuncu (Nuh Tepesi)
2020 – 18th Stars of the Year (18. Yilin Yildizlari Odulleri) – Best Actor in Cinema (Turkish Style Ice Cream) – En Iyi Erkek Sinema Oyuncusu (Turk Isi Dondurma)
2020 – Galatasaray University Awards (Galatasaray Universitesi En Odulleri) – Best Director (Cinayet Susu) – En Iyi Yonetmen (Cinayet Susu)
2020 – 20th International Frankfurt Turkish Film Festival (20. Uluslararasi Frankfurt Turk Film Festivali) – Best Actor (Noah Land) – En Iyi Erkek Oyuncu (Nuh Tepesi)
Theatre Plays
2002 – Yine Ne Oldu
2002 – Adamlar
2003 – Op'la Zo'nun Drami
2004 – Yangin Duasi
2009 – Bayrak
Director/Screen Writer
2014 – Limonade (Limonata) (Movie)
2018 – Mortal World (Olumlu Dunya) (Movie)
2019 – Cinayet Susu (Movie)
Social
Ali Atay's Instagram: https://www.instagram.com/atayaliko/
Ali Atay's Twitter: https://twitter.com/atayaliko
Ali Atay Gallery