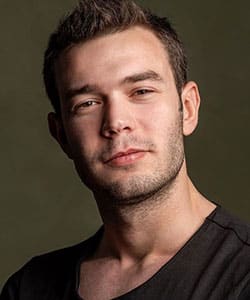 Profile
Name: Aytac Sasmaz
Birthdate: August 4, 1998
Birthplace: Manisa, Turkey
Height: 180 cm
Eye Color: Brown
Hair Color: Brown
Education:
Talent Agency: Id Iletisim
Spouse: Cemre Baysel
Biography: Aytac Sasmaz was born in 4 August 1998 in Manisa. He is the brother of actor Ege Sasmaz. He took acting lessons and made her debut in 2007 with his role in Turkish movie Bad Guy (starring Tolga Saritas and Afra Saracoglu). His height is 1.80 m. And his weight is 77 kg.

Aytac Sasmaz Tv Series / Movies
2017 – Bad Guy (Kotu Cocuk) (as Omer) (Movie)
2017 – 2019 Oath (Soz) (as Feyzullah Altiparmak)
2019 – 2021 Hekimoglu (as Emre Acar)
2020 – Love Loves Coincidences 2 (Ask Tesadufleri Sever 2) (as Der Junga Niko) (Movie)
2021 – Twist of Fate (Baht Oyunu) (as Bora Dogrusoz)
2023 – Ilk Gokturk (as Istemi Yabgu) (Movie)
Awards
From an Interview with Aytac Sasmaz
What makes you so angry?
Disrespectfulness makes me so angry. I become very angry if I cannot get the respect from anyone whom I show respect.
Can you talk about your love for Superman?
Superman is a person who dedicates his life for saving lives in an unrequited manner. He comes to earth for this reason. This is my goal.
Is there any role that you would never act?
There is not any role that I say that I would never act. If you are an actor, you need to accept any role.
Is there any project you would love to see in Turkey too?
Superman. I wish they could come to me for this role.
How did your scar in your forehead happen?
When I was 3-4 years old, I fell down while I was playing in the construction site. I hit my head to the corner of the balcony.
When you post on Instagram, do you check it out who has seen your post?
I do. When I have time, I both check my stories and my dm.
How do your friends define you?
A man as he is.
What do you do when you get bored so much?
I go to a quiet place or I listen to a music.
Social
Instagram: Official Instagram Account
Twitter: Official Twitter Account
Facebook:
Youtube Channel: Official Youtube Channel
E-Mail:
Trivia
Body Type:
Skills:
Zodiac Sign: Leo
Blood Type:
Hobbies:
Weight: 77 kg
Aytac Sasmaz Gallery
Magazine Shooting Backstage
beMAN Magazine Ağustos | Aytaç Şaşmaz Backstage
Best Friends