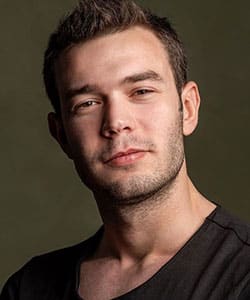 Profile
Name: Aytac Sasmaz
Birthdate: August 4, 1998
Birthplace: Manisa, Turkey
Height: 180 cm
Eye Color: Brown
Hair Color: Brown
Education:
Talent Agency: Id Iletisim
Spouse:
Biography: Aytac Sasmaz was born in 4 August 1994 in Manisa. He is the brother of actor Ege Sasmaz. Aytac Sasmaz took acting lessons and made her debut in 2007 with his role in Turkish movie Bad Guy (starring Tolga Saritas and Afra Saracoglu). Aytac Sasmaz's height is 1.80 m. And his weight is 77 kg.
Aytac Sasmaz Tv Series / Movies
2017 – Bad Guy (Kotu Cocuk) (Movie)
2017 – Oath (Soz) (as Uzman Cavus Feyzullah)
2019 – Love Loves Coincidences 2 (Ask Tesadufleri Sever 2) (as Der Junga Niko) (Movie)
2019 – Hekimoglu (as Emre Acar)

Awards
Social
Instagram: https://www.instagram.com/aytacsasmaz/
Twitter: https://twitter.com/aytacsasmaz
Facebook:
E-Mail:
Trivia
Body Type:
Skills:
Star Sign:
Blood Type:
Hobbies:
Aytac Sasmaz Gallery