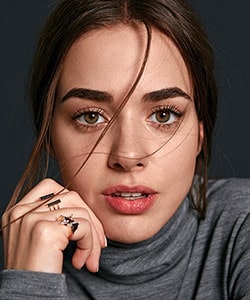 Profile
Name: Bensu Soral Bas
Birthdate: March 23, 1991
Birthplace: Bursa, Turkey
Height: 163 cm
Eye Color: Green
Hair Color: Brown
Education: Marmara University Fine Arts School – Graphics (Marmara Universitesi Guzel Sanatlar Fakultesi)
Talent Agency: Id Iletisim
Spouse: Hakan Bas (m. 2018-present)
Biography: Bensu Soral was born in 23 March 1991 in Inegol, Bursa. She is the sister of Turkish actress Hande Soral. She has a twin brother named Bedirhan. With the support of her sister, She started to be interested in acting. In 2011, she took acting lessons at Istanbul Public Theatre (Istanbul Halk Tiyatrosu).
Bensu Soral Tv Series / Movies
2012 – Yol Ayrimi (as Ayse)
2013 – Conscience (Vicdan) (as Muge)
2014 – Boynu Bukukler (as Miray)
2015 – Pretty Little Liars (Tatli Kucuk Yalancilar) (as Asli)
2016 – 2017 Insider (Icerde) (as Melek Yilmaz)
2019 – Magic Carpet Ride 2 (Organize Isler: Sazan Sarmali) (as Nazli Noyan) (Movie)
2020 – Mest-i Ask (as Meryem) (Movie)
2021 – Love Reserved (Cam Tavanlar) (as Leyla)
Awards
2015 – 42. Pantene Golden Butterfly Awards (42. Pantene Altin Kelebek Odulleri) – Pantene Rising Stars (Pantene Yildizi Parlayanlar)
Social
Instagram: https://www.instagram.com/bensusoral/
Twitter: https://twitter.com/bensusoral
Facebook:
E-Mail:
Trivia
Body Type:
Skills:
Zodiac Sign:
Blood Type:
Hobbies:
Weight:
Gallery
From Interview with Bensu Soral