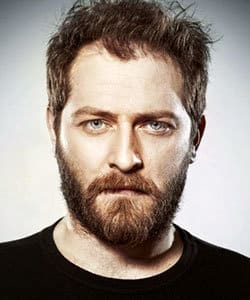 Profile
Name: Alican Yucesoy
Birthdate: October 22, 1982
Birthplace: Istanbul, Turkey
Height: 184 cm
Eye Color: Blue
Education: Halic University Conservatory-Theatre (Halic Universitesi Konservatuari Tiyatro Bolumu)
Spouse: Melisa Sozen (m. 2013–2014)
Other: Alican Yucesoy went to primary, secondary and high school in Bursa then moved to Istanbul for his university education. Alican Yucesoy took part in various theatre plays such as Good Man (Iyi Insan), BackWards World (Tersine Dunya), Man of the Day (Gunun Adami), Pirtlatan Bal, and Dog Woman Man (Kopek Kadin Erkek). He worked at Bakirkoy Municipality Theatre in 2003. Alican Yucesoy resembles to American actor Jude Law. He became popular with his role as Tarik at Turkish drama Accidental Husband (Zoraki Koca).
Notable Works
2003 Battery Operated Doll (Pilli Bebek) (as Ertugrul)
2005 Silent Night (Sessiz Gece) (as Isik)
2006 Radio with Accumulator (Akumulatorlu Radyo) (as Murat)
2006 Island of Hope (Umut Adasi) (as Tugra) (the movie)
2006 Last Ottomon Knockout Ali (Son Osmanli Yandim Ali) (as Mustafa Kemal) (the movie)
2006 September 2nd (2 Eylul) (as Tim Cavusu) (short movie)
2007 Departing Passenger (Gurbet Yolculari) (as Huseyin)
2007 The Accidental Husband (Zoraki Koca) (as Tarik)
2008-2010 From Adana (Adanali) (as Tilki Timur)
2008 Listen From the Nay (Dinle Neyden) (as Halil Tabip) (the movie)
2009 Home (Ev) (as Koray) (the movie)
2010 Sleep of a Princess (Prensesin Uykusu) (as Neset) (the movie)
2010 Whoops Whoops (Eyvah Eyvah) (as Ibrahim) (the movie)
2011 Please Don't Leave (Sen De Gitme) (as Ilker)
2011 Whoops Whoops 2 (Eyvah Eyvah 2) (as Ibrahim) (the movie)
2012 February (Subat) (as Subat)
2012 Sleepers (Suskunlar) (as Cebrail)
2013-2014 Revenge (Intikam) (as Ali Sulen)
2014 Are You With Me? (Benimle Var Misin?) (the movie)
2014 Call Me Sorrow From Now On (Bana Artik Hicran De) (as Muraz Sezgin)
2015 Secrets of the Dinner Table (Sofra Sirlari) (as Dedektif Nejat) (the movie)
2015 Ertugrul 1890 (as Bekir Cavus) (the movie)
2015-2016 Intersection (Kordugum) (as Umut)
2015 Palace of Serce (Serce Sarayi) (as Ali Riza)
2016 Far Away Too Close (Cok Uzak Fazla Yakin) (the movie)
2017 Sleep of Love (Ask Uykusu) (as Serkan) (the movie)
Alican Yucesoy Social
Twitter: https://twitter.com/alicanyucesoy
Instagram: https://www.instagram.com/alicanyucesoy/
Alican Yucesoy Gallery