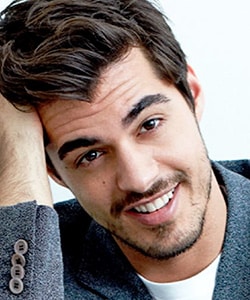 Profile
Name: Berk Atan
Birthdate: September 26, 1991
Birthplace: Izmir, Turkey
Height: 188 cm
Eye Color: Black
Hair Color: Brown
Education: Istanbul Beykent University Fine Arts Faculty (Istanbul Beykent Universitesi Guzel Sanatlar Fakultesi Oyunculuk Bolumu)
Talent Agency: Persona Sanat
Spouse:
Biography: Berk Atan was born on 26 September 1991 in Izmir. His father's side is of Bosnian descent. He graduated from Istanbul Beykent University Fine Arts School (acting). Berk Atan was chosen as one of the "Best Promising Models" on the 2011 Best Model of Turkey and he became the Best Model of Turkey in 2012.
Berk Atan Tv Series / Movies
2013 – Altindagli (as Pamir)
2013 – Everything is Okey (Hersey Yolunda Merkez) (as Selcuk Demircioglu)
2015 – 2016 Sunshine Girls (Gunesin Kizlari) (as Savas Mertoglu)
2017 – Forever Bound (Dayan Yuregim) (as Atif Sinan Sanal)
2017 – Tahin Pekmez (as Akif) (Movie)
2017 – 2018 Cennet'in Gozyaslari (as Selim Arisoy / Ali Demir)
2020 – An Anatolian Tale (Gonul Dagi) (as Taner Kaya)
Awards
2011 – Best Model of Turkey – Best Promising Model
2012 – Best Model of Turkey – First Ranking
2012 – Best Model of the World – First Ranking
2015 – KTU Media Awards (KTU Medya Odulleri) – Rising Star of the Year (Sunshine Girls) – Yilin En Iyi Cikis Yapan Erkek Oyuncusu (Gunesin Kizlari)
2016 – The Best of the Year Awards Turkish Students Association (Turk Tip Ogrencileri Birligi Yilin Enleri) – Best Actor (Sunshine Girls) – En Iyi Erkek Oyuncu (Gunesin Kizlari)
Social
Instagram: https://www.instagram.com
Twitter: https://twitter.com
Facebook: https://www.facebook.com
E-Mail: [email protected]