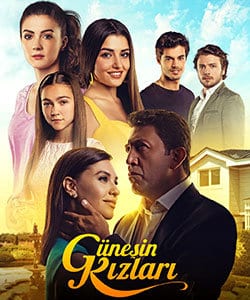 Details
Original Title: Gunesin Kizlari
English Title: Daughters of Sun
Also Known As: Sunshine Girls
Genre: Drama, Romance, Mistery
Episodes: 39
Broadcast Network: Kanal D
Broadcast Period: June 18, 2015 – March 19, 2016
Production Company: Surec Filmcilik
Director: Sadullah Celen
Screen Writer: Deniz Dargi ve Cenk Bogatur
Filming Locations: Istanbul, Turkey
Synopsis
Gunes (Evrim Alasya) is a 35 years old woman who has 3 daughters and works as literature teacher in Izmir (a city in the West of Turkey). Since her husband left her without saying anything, Gunes has been living happily with her 3 daughters, all of them has totally different characters: 17 years old twins Nazli (Burcu Ozberk) and Selin (Hande Ercel) and 15 years old Peri (Miray Akay).
Meanwhile Gunes meets a well-known successful businessman Haluk Mertoglu (Emre Kinay) who lives in Istanbul but comes to Izmir frequently to do business. Gunes and Haluk fall in love with each other. Although they have been seeing each other for just 6 months, Haluk proposes to Gunes and wants her to move in to Istanbul with her daughters. Gunes wants to get married to Haluk because she thinks that this time, she has found her perfect prince charming. However, there is one problem: Gunes has not disclosed her relationship to her daughters yet.

When Gunes's daughters learn that their mother is going to get married, all of them gives different reaction: Nazli totally opposes to this marriage, Selin wants to have a rich life so, immediately approves the marriage, and Peri wants to see her mother happy so, she approves what her mother wants to do. No matter what Nazli does, Haluk never gives up and eventually, manage to get married to Gunes.
After marriage, Gunes and her daughters move in to Istanbul, the big mansion where Haluk lives. Their arrival changes everything, especially affect the lives of Haluk's son Ali (Tolga Saritas) and Haluk's nephew Savas (Berk Atan).  Also, with the arrival of Gunes and her daughters, the secrets of Haluk's family come to light one after another.
Sunshine girls (gunesin kizlari) tv series story, you will explore the difficulties of being parents and also, you will watch the story of a family which is surrounded by secrets. Will Nazli manage to prevent her mother's marriage? Will Gunes and her daughters adjust easily to their new life in Istanbul? Will Haluk continue to be perfect man for Gunes?
Sunshine Girls Tv Series Cast
Emre Kinay as Haluk Mertoglu
Evrim Alasya as Gunes Yilmaz / Gunes Mertoglu
Tolga Saritas as Ali Mertoglu
Burcu Ozberk as Nazli Yilmaz
Berk Atan as Savas Mertoglu
Hande Ercel as Selin Yilmaz Mertoglu
Miray Akay as Peri Yilmaz
Meltem Gulenc as Rana
Funda Ilhan as Sevilay
Teoman Kumbaracibasi as Ahmet Mertoglu
Sureyya Guzel as Inci Mertoglu
Irem Helvacioglu as Tugce Yurdam
Sarp Can Koroglu as Emre
Kanat Hepari as Mert
Sarper Arda as Can
Timucin Esen as Hakan
Ulas Tuna Astepe as Mert
Ege Kokenli as Melisa
External Links
Imdb:
Wikipedia:
Official Site: https://www.kanald.com.tr/gunesin-kizlari
You Might Also Like:
Forbidden Love (Aski Memnu)
Sunshine Girls (Gunesin Kizlari) Tv Series Gallery