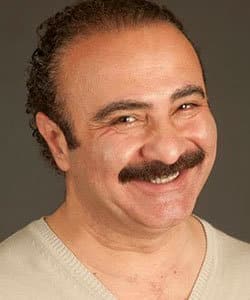 Profile
Name: Mehmet Cengiz Bozkurt
Birthdate: December 24, 1965
Birthplace: Nevsehir, Turkey
Height: 170 cm
Eye Color: Brown
Hair Color: Black
Education: METU Physics (1984-1990); University of London, Goldsmiths School Cinema-TV (Bachelor's Degree)
Talent Agency:
Spouse: Hatice Kavak Bozkurt (m. 2008-present)
Children: Caglayan Bozkurt
Biography: Cengiz Bozkurt was born in 24 December 1965 in Nevsehir Gulyazi. He graduated from Ankara Ataturk High School. Even though he started to study physics in 1984 at Middle East Technical University (METU), he dropped out the school in 1990 in order to study theatre. He studied media and communications at Goldsmiths University of London and graduated in 1996. He lived in the United Kingdom (UK) for 14 years and studied in various jobs such as driving. Cengiz Bozkurt returned to Turkey in 2003 and took part in various theatre plays, movies, and tv projects. Cengiz Bozkurt became very popular with his role as Erdal at Leyla and Mecnun television series. Cengiz Bozkurt has three daughters named Caglayan from his first marriage, Sena from his second marriage and Ada from his second marriage.
Cengiz Bozkurt Tv Series / Movies
2005 – Broken Wings (Kirik Kanatlar) (as Seref)
2005 – I Missed You So Much (Seni Cok Ozledim) (as Serhan Ertunc)
2006 – Bride Ezo (Ezo Gelin) (as Duran)
2006 – Karagumruk is Burning (Karagumruk Yaniyor) (as Sitki)
2007 – 2009 Behind the Bars (Parmakliklar Ardinda) (as Ekrem)
2007 – My Dear Parents-in-Law of My Child (Sevgili Dunurum) (as Osman)
2007 – Stone Pillow (Tas Yastik) (Movie)
2007 – Egg (Yumurta) (Movie)
2008 – Devrim Cars (Devrim Arabalari) (as Ender) (Movie)
2008 – To Go: My Marlon and Brand (Gitmek: Benim Marlon And Brand) (as Azad) (Movie)
2008 – Verdict (Hukum) (Short Movie)
2009 – I Love You (Ay Lav Yu) (as Saido) (Movie)
2010 – Behzat C. (Behzat C. Bir Ankara Polisiyesi) (as Erdal)
2010 – Intersection (Kavsak) (as Vedat) (Movie)
2011 – Can (as Fevzi) (Movie)
2011 – 2012 Leyla and Mecnun (Leyla ile Mecnun) (as Erdal)
2011 – Body (Vucut) (as Yilmaz) (Movie)
2011 – True Real Police Station (Oz Hakiki Karakol) (as Hasan) (Movie)
2012 – Berlin Tiger (Berlin Kaplani) (as Tayyar) (Movie)
2012 – Code Name Venus (Kod Adi Venus) (as Adamos) (Movie)
2013 – 2014 Between You and Me (Aramizda Kalsin) (as Halil)
2013 – I Missed Too (Ben de Ozledim) (as Cengiz)
2013 – You Lighten the Night (Sen Aydinlatirsin Geceyi) (as Nazim) (Movie)
2013 – Sevdaluk (as Muhtar Ali)
2014 – Don't Tell Me Fairytale (Bana Masal Anlatma) (as Nafi) (Movie)
2014 – Home Office (Home Ofis) (as Hamdi)
2014 – 2015 My Husband's Family (Kocamin Ailesi) (as Dilaver)
2014 – Very Soon (Pek Yakinda) (as Suat Gunes) (Movie)
2014 – Good One (Iyi Biri) (as Mizrap) (Movie)
2015 – Black Trouble (Kara Bela) (as Kudret) (Movie)
2016 – 50 Square Meter (50 Metrekare)
2016 – Deli Dumrul (Movie)
2016 – Dr. Dilara (Movie)
2016 – Geldim Gordum Guldum (as Cengiz Canbazoglu)
2016 – Which One of Us Didn't Love (Hangimiz Sevmedik) (as Sener Yesil)
2016 – Small Tradesman (Kucuk Esnaf) (as Fahrettin) (Movie)
2016 – You Are My Everything (Sen Benim Herseyimsin) (as Birol) (Movie)
2017 – Visible Man (Gorunen Adam)
2018 – Ailecek Saskiniz (as Muzaffer) (Movie)
2018 – Mutluluk Zamani (as Tarik) (Movie)
2018 – 2020 Jet Sosyete (as Cengiz Ozpamuk)
2019 – Cinayet Susu (as Salih) (Movie)
2020 – Gencligim Eyvah (as Arif Asmali)
2020 – 2021 North Star (Kuzey Yildizi Ilk Ask) (as Cevher Kadioglu)
2021 – 50m2 (as Muhtar)
Awards
2010 – 47th International Golden Orange Film Festival (47. Uluslararasi Altin Portakal Film Festivali) – Best Actor in Supporting Role (Intersection) – En Iyi Yardimci Erkek Oyuncu (Kavsak)
2019 – 24th Sadri Alisik Theatre and Cinema Awards (24. Sadri Alisik Tiyatro ve Sinema Oyuncu Odulleri) – Best Supporting Actor in a Comedy Role (Komedi Dalinda Yardimci Rolde Yilin En Basarili Erkek Oyuncusu) (Ailecek Saskiniz)
Social
Instagram: https://www.instagram.com/mcengizbozkurt/
Twitter: https://twitter.com/mcengizbozkurt
Facebook:
E-Mail:
Cengiz Bozkurt Gallery
Come to Kitchen Counter with Bulent Sakrak
Bülent Şakrak'la Tezgah'a Geldik Bölüm 2 - Cengiz Bozkurt