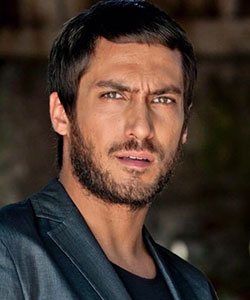 Profile
Name: Berk Hakman
Birthdate: August 14, 1981
Birthplace: Ankara, Turkey
Height: 1.78 m
Eye Color: Green
Hair Color: Brown
Education: Akdeniz University Tourism (Akdeniz Universitesi Turizm Isletmeciligi) (drop-out); Mimar Sinan University State Conservatory Theatre (Mimar Sinan Universitesi Devlet Konservatuari Tiyatro)
Talent Agency:
Spouse:
Biography: Berk Hakman was born on 14 August 1981 in Ankara. His father is a dentist and singer Ataman Hakman. His parents are of Albanian descent. Berk Hakman has been playing guitar since he was 11 years old. While he was going to high school, he started to play keyboard instruments, trumpet and bass guitar. Berk Hakman started his acting career with his role in a movie named School (Okul). Berk Hakman knows English and French.

Berk Hakman Tv Series / Movies
2003 – School (Okul) (as Ersin) (Movie)
2005 – Broken Wings (Kirik Kanatlar) (as Hristo)
2005 – Dawn (Seher Vakti) (as Davut)
2006 – What is Fate? (Felek Ne Demek?) (as Seyda)
2006 – 2007 Past Times (Hatirla Sevgili) (as Deniz Karayel)
2006 – Janjan (as Janjan Sadik) (Movie)
2006 – Hidden Faces (Sakli Yuzler) (as Ismail) (Movie)
2009 – 2010 Es Es (as Tercan)
2009 – Naked Foot at Campus (Kampuste Ciplak Ayaklar) (as Ali) (Movie)
2009 – Childhood (Cocukluk Gunleri)
2011 – Memories Still Hurt (Mazi Kalbimde Yaradir) (as Selim Balkanli)
2012 – Game of Silence (Suskunlar) (as Gurur Kutay / Gazanfer Bircan)
2012 – Beyond the Hill (Tepenin Ardi) (as Zafer) (Movie)
2013 – 2015 The Fugitive (Kacak) (as Ertan Demir)
2016 – Love of My Life (Hayatimin Aski) (as Kaan Engindeniz)
2016 – The Return (Kehribar)
2017 – 2018 Black Pearl (Siyah Inci) (as Vural)
2017 – Taksim Hold'em (as Fuat) (Movie)
2021 – The Usual Suspects (Olagan Supheliler) (as Yalcin Doganer)
2022 – Hear Me (Duy Beni) (as Selim Bender)
Awards
2012 – 3. Malatya International Film Festival (3. Malatya Uluslararasi Film Festivali) – Best Actor (Beyond the Hill) – En Iyi Erkek Oyuncu (Tepenin Ardi)
Social
Instagram: Instagram – brkhkmn
Twitter: @berkhakman
Facebook:
E-Mail:
Trivia
Body Type:
Skills:
Star Sign: Leo
Blood Type:
Hobbies:
Weight:
Berk Hakman – Texas