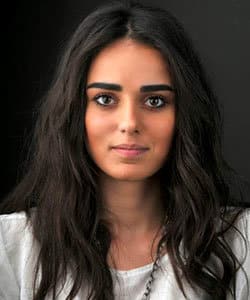 Profile
Name: Bestemsu Ozdemir
Birthdate: April 20, 1992
Birthplace: Istanbul, Turkey
Height: 173 cm
Eye Color: Brown
Hair Color: Brown
Education: Istanbul Technical University Fashion Design (Istanbul Teknik Universitesi Moda Bolumu)
Talent Agency: Artistanbul Management
Spouse:
Biography: Bestemsu Ozdemir actually wanted to study jewelry design but could not attend school for health reasons. Then she started to do oil paintings and charcoal drawing. While she was studying at fashion design, she also took acting lessons and continued drawings. While she was going to high school, she also started her career as a model.

Bestemsu Ozdemir Tv Series / Movies
2012 – Sakarya Firat (as Melike Derbent)
2012 – Istanbul Memory (Istanbul Hatirasi) (as Sultan)
2012 – Araf Zamani
2014 – 2015 Black Money Love (Kara Para Ask) (as Nilufer Denizer)
2015 – Moms and Mothers (Analar ve Anneler) (as Sevgi Tinar)
2015 – Tabula Rosa (as Rosa / Saadet) (Movie)
2016 – We Will Get Back to You (Biz Size Doneriz) (as Defne) (Movie)
2017 – World's Most Beautiful Smell 2 (Dunyanin En Guzel Kokusu 2) (as Candan) (Movie)
2017 – Swallow Storm (Kirlangic Firtinasi)
2017 – 2018 Meryem – Tales Of Innocence (as Beliz Bilen)
2018 – Dad Where Are You I Am Lost (Baba Nerdesin Kayboldum) (as Fulya) (Movie)
2018 – Two Parts One Love (Ege'nin Hamsisi) (as Zeynep Gerginoglu)
2020 – Guvercin (as Ipek)
2020 – 2021 Scorpion (Akrep) (as Selma)
2021 – One Out of Million (Milyonda Bir) (as Ruya) (Movie)
2021 – Our Secret (Ikimizin Sirri) (as Ece Kaya)
2022 – Mujdemi Isterim (Movie)
2022 – Poison Ivy (Gecenin Ucunda) (as Serra Pekdemir)
2023 – Nefes: Yer Eksi Iki (as Sebnem) (Movie)
Social
Instagram: @bestemsuozdemir
Twitter:
Facebook:
Bestemsu Ozdemir Gallery